Monday Intensives
Applied Communilytics w/Alistair Croll & Sean Power. Applied Communilytics The world of communilytics has exploded in 2010.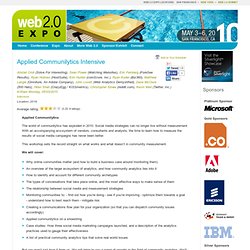 Social media strategies can no longer live without measurement. With an accompanying eco-system of vendors, consultants and analysts, the time to learn how to measure the results of social media campaigns has never been better. Interview w/Sean Power. "Awesome.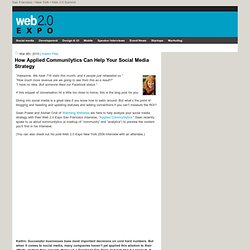 We have 716 visits this month, and 4 people just retweeted us." "How much more revenue are we going to see from this as a result?" "I have no idea. Bitcurrent - Networking, technology, and the web. Watching Websites - Alistair Croll & Sean Power on Complete Web. Lean Startup w/ Eric Reis & Sean Ellis. Based in Palo Alto, California, Jean-Francois "Jeff" Clavier is the Founder and Managing Partner of SoftTech VC, one of the most active seed stage investors in Web 2.0 startups.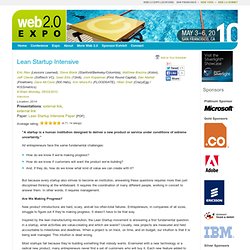 Since 2004, Jeff has invested in more than 70 consumer Internet companies in areas like social media, communities, search, gaming or consumer infrastructure, almost exclusively in Silicon Valley. With over 20 years of operational, entrepreneurial and venture capital experience, Jeff is able to add relevant perspective and value to his companies as they grow from inception to maturity, and hopefully, success.
In 2007, Jeff was recognized as one of the 13 Web 2.0 King Makers by (late) Business 2.0, and in 2008, BusinessWeek named him one of The 25 Most Influential People on the Web. Interview with Eric Reis. Our media partner Adam Stacoviak of the Web 2.0 Show brings us a podcast interview today with Web 2.0 Expo speaker and Lean Startup Intensive leader Eric Ries.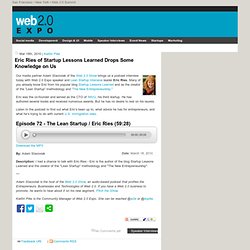 Many of you already know Eric from his popular blog Startup Lessons Learned and as the creator of the "Lean Startup" methodology and "The New Entrepreneurship." Eric was the co-founder and served as the CTO of IMVU, his third startup. Interviews. Robert Scoble came by my office to learn about the Lean Startup and the Startup Lessons Learned Conference on April 23.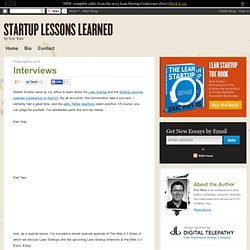 By all accounts, the conversation was a success. I certainly had a great time, and the early Twitter reactions seem positive. Of course, you can judge for yourself. Eric Ries (ericries)
---
maxima May 21 2010

Extremely good information here
---