Hot topics
twitter.com/nickbilton Atul Arora's Twitter stream shows a constant flow of breaking technology news links. When I finish writing this blog post, I will Tweet it. I will copy this link, go to my Twitter account and spend a minute writing an abbreviated (yet hopefully catchy) description of this piece. And I'll follow the same actions on Facebook and other social networks.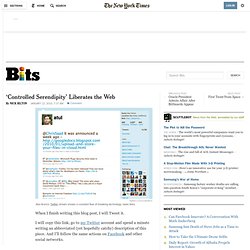 'Controlled Serendipity' Liberates the Web - Bits Blog - NYTimes
That's a controversial post headline and I don't mean that social will always beat search, but there's a rising chorus out there about "content farms" and search optimized content creation that is worth touching on. Arrington started it when he posted about " the end of hand crafted content ". Richard MacManus penned a similar post the same day called " Content Farms: Why Media, Blogs, and Google should be worried ". And over the weekend, Paul Kedrosky addressed the issue of search spam in his quest to find the perfect dishwasher . When a web service like Google controls a huge amount of web traffic (>50% for many sites), it's going to get spammed up.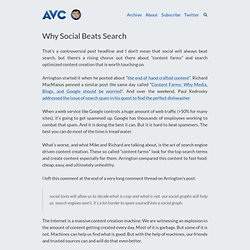 I've been writing a lot about so-called 'content farms' in recent months - companies like Demand Media and Answers.com which create thousands of pieces of content per day and are making a big impact on the Web. Both of those two companies are now firmly inside the top 20 Web properties in the U.S. , on a par with the likes of Apple and AOL.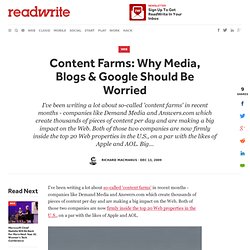 Curating farmers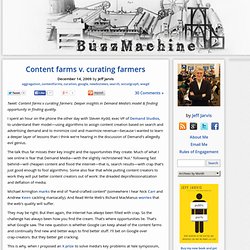 Tweet: Content farms v curating farmers: Deeper insights in Demand Media's model & finding opportunity in finding quality. I spent an hour on the phone the other day with Steven Kydd, exec VP of Demand Studios , to understand their model—using algorithms to assign content creation based on search and advertising demand and to minimize cost and maximize revenue—because I wanted to learn a deeper layer of lessons than I think we're hearing in the discussion of Demand's allegedly evil genius.
I keep hearing people throw around the word "curation" at various conferences, most recently at SXSW. The thing is most of the time when I dig into what they are saying they usually have no clue about what curation really is or how it could be applied to the real-time world. So, over the past few months I've been talking to tons of entrepreneurs about the tools that curators actually need and I've identified seven things.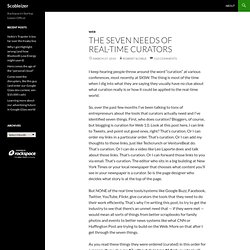 Robert Scoble: @laetSgo Pearltrees is one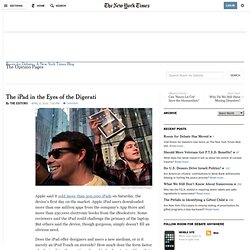 The iPad in the Eyes of the Digerati - Room for Debate Blog - NY
Spencer Platt/Getty Images Apple said it sold more than 300,000 iPads on Saturday, the device's first day on the market. Apple iPad users downloaded more than one million apps from the company's App Store and more than 250,000 electronic books from the iBookstore. Some reviewers said the iPad could challenge the primacy of the laptop. But others said the device, though gorgeous, simply doesn't fill an obvious need. Does the iPad offer designers and users a new medium, or is it merely an iPod Touch on steroids?
HTML5 vs flash: the controversy