Otherz
We all want everything here, now, fast and with no hassle (no need to install anything). This is what Codeanywhere does, it lets you code from anywhere, without the need to bring anything along with you. Just log on to Codeanywhere with any computer or smartphone, and all your servers (FTP, SFTP and Dropbox), files, everything is waiting for you, even the files you left open will be open when you login again. It's the ultimate tool for web workers on the move. Best of all, it is light weight and fast, so you can concentrate on working, not on the fact that you working from a browser. Codeanywhere is compatible on all major browsers so you can work from the one you like, also if you on your mobile you can download the native mobile apps for iOS and Andriod.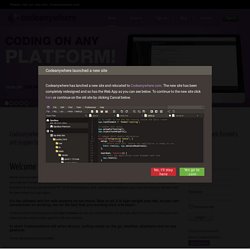 14 Mar 2011 Today we will upload an update with an experimental way of opening files for Samsung S handsets that might solve the problem with the 10kb limit they seem to have. Also we have added support for multiple file encodings for the full version.
SilverEdit
Sled Hill at Winter Campby Robert 418 views 1 month ago 00:45 min Costa Mayaby James 368 views 1 month ago 02:37 min Halloween Paradeby Sophie Ziner 1,252 views 5 months ago 2:04 min St. Mark's Square Venice...by Kayden 6,753 views 6 months ago 0:58 min NY Comicon 2013 (as seen by a...by Adam Christie 2,402 views 6 months ago 0:31 min 漂流by shan 1,361 views 7 months ago 00:22 min Cronut Madnessby Will Snape 4,067 views 8 months ago 3:45 min Lexus IS tours LAby Lexus 916 views 8 months ago 01:07 min Cherry Esplanade at the...by Krisztina 5,108 views 11 months ago 3:09 min 14-04-2013 06:35by Mahir Kilic 1,985 views 12 months ago 00:41 min *56 BOYS - Soundboyby 56boys hhcity 3,253 views 1 year ago 03:30 min under water by B Hard 6,608 views 1 year ago 00:13 min Mellow At 40mphby Ian Cooke 12,942 views 1 year ago 01:02 min YoYo Contest Japanby Taka Hasegawa 6,148 views 1 year ago 00:43 min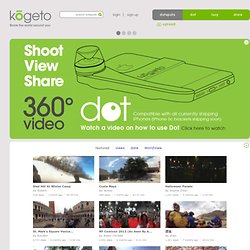 Dot: 360º video capture for the iPhone 4 by Jeff Glasse & Kickstarter - StumbleUpon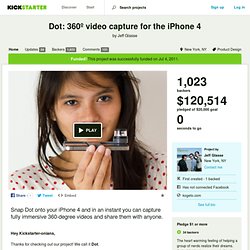 Hey Kickstarter-onians, Thanks for checking out our project! We call it Dot. It's a stylish, durable and downright pocketable 360º (panoramic) lens attachment and app for the iPhone 4.