Adobe
Flash gaming: Doing deals with Chris Hughes. Flash has one of the most remarkable stories in recent game technology.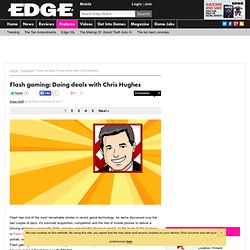 As we've discussed over the last couple of days, it's survived acquisition, competition and the rise of mobile phones to deliver a thriving webgame community that's enjoying considerable financial reward. At the heart of this business is Flash Game License, a company which brokers a huge number of deals between indie developers and portals, small and large. We spoke at length to co-founder Chris Hughes about the mechanics of the Flash gaming scene, from what US players are worth, compared to European and Chinese, to what it takes to make a Flash game worth $50,000.
Could you outline your business and how it's changed over the last few years? Create a mobile Facebook Flex application in Flash Builder 4.5 (Part 1) « Flex Doc Team. Over the last few weeks, I've been working on mobile Facebook apps with ActionScript and Flex to create tutorials that help developers understand the workflow and data structure of the Facebook platform.
In the next couple weeks, I'll be posting several posts discussing different aspects of the Facebook/ActionScript/Flex/mobile platforms as well as a few new and exciting Facebook apps! For my first project, I took one of the Adobe Developer Center articles (Create your first Flex and Facebook application) and ported it to a mobile application. The workflow and structure is relatively the same between mobile and desktop, although there are several changes that I will call out as they occur throughout this tutorial. This tutorial follows a slightly modified set of instructions, so please be aware of the subtle differences and explanations. Inside Adobe - Watch the Financial Analyst Meeting.
Frima Studio Neema Project trailer. MAX 2011 Envision - 10 Whirlwind Demos with Adobe Web Experience Management. Community Translation Your transcript request has been submitted.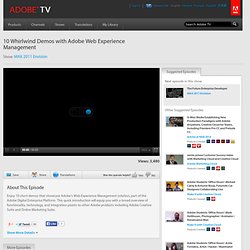 Adobe TV does its best to accommodate transcript requests. It can take a few weeks for the transcript to become available in the Community Translation Project, so keep checking back. Join the Community Translation Project. MAX 2011 Develop - Best Practices for Building Flex Tablet Applications. Community Translation Your transcript request has been submitted.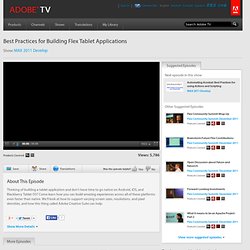 Adobe TV does its best to accommodate transcript requests. MAX 2011 Keynotes - Creativity Unleashed. Community Translation Episode available in 1 languages Available Translations: Join the Community Translation Project Thanks for your interest in translating this episode!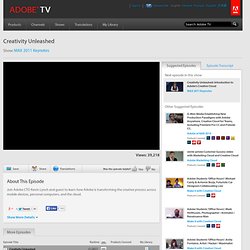 MAX 2011 Keynotes - Creating the Very Best User Experiences. Share this Episode Please select a language: Autoplay End of Video.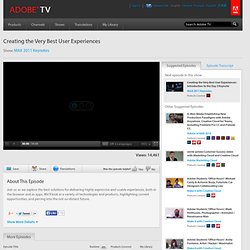 Newsstand apps built with Adobe Digital Publishing Suite. Adobe says its Digital Publishing Suite is being used by leading publishers who have delivered Newsstand-enabled iOS apps.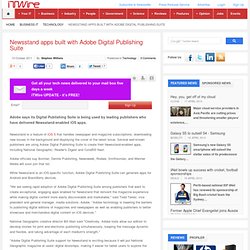 Newsstand is a feature of iOS 5 that handles newspaper and magazine subscriptions, downloading new issues in the background and displaying the cover of the latest issue. Several well-known publishers are using Adobe Digital Publishing Suite to create their Newsstand-enabled apps, including National Geographic, Reader's Digest and Condé Nast. Adobe officials say Bonnier, Dennis Publishing, Newsweek, Rodale, Smithsonian, and Wenner Media will soon join that list. While Newsstand is an iOS-specific function, Adobe Digital Publishing Suite can generate apps for Android and BlackBerry devices. Flex in a Week video training. This training course will help you understand how you can leverage the open source Flex framework to build RIAs.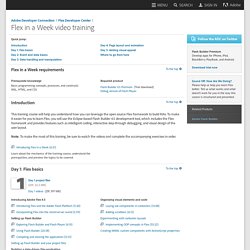 To make it easier for you to learn Flex, you will use the Eclipse-based Flash Builder 4.5 development tool, which includes the Flex framework and provides features such as intelligent coding, interactive step-through debugging, and visual design of the user layout. Note: To make the most of this training, be sure to watch the videos and complete the accompanying exercises in order.
---