Emails
Mozilla Messaging - Client de messagerie Thunderbird
Voici les extensions en français pour Mozilla Thunderbird (150 extensions actuellement listées). Les langues entre crochets après le nom de l'extension (p.ex [en] ou [fr]) désignent la langue de la page cible et non la langue de l'extension (qui sont toutes en français). Votez pour vos extensions préférées et obtenez des suggestions personnalisées ! Vous vous demandez pourquoi voter ? Pour les : consultez la liste des extensions les plus appréciées ou la liste des extensions les plus populaires . A B C D E F G H I J K L M N O P Q R S T U V W X Y Z Inclassables
Thunderbird
Résultats de la recherche de module pour eMarks :: Modules pour Thunderbird
Résultats de la recherche de module pour Lightning :: Modules pour Thunderbird
Résultats de la recherche de module pour Google Contacts :: Modules pour Thunderbird
Résultats de la recherche de module pour Webmail notifier :: Modules pour Thunderbird
Résultats de la recherche de module pour Folderpane :: Modules pour Thunderbird
QuoteCollapse :: Modules pour Thunderbird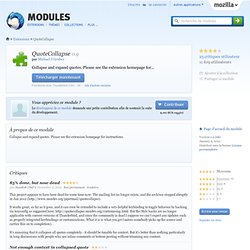 85% done, but now dead Noté 4 sur 5 étoiles par Swedish Chef le December 2, 2013 · lien permanent · traduire This project appears to have been dead for some time now. The mailing list no longer exists, and the archives stopped abruptly in Jan 2012 (http://www.mozdev.org/pipermail/quotecollapse). It works great, as far as it goes, and it can even be extended to include a very-helpful keybinding to toggle behavior by hacking via keyconfig as suggested here: http://quotecollapse.mozdev.org/customising.html.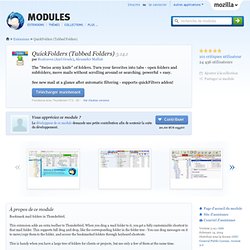 QuickFolders (Tabbed Folders) :: Modules pour Thunderbird
Milestones Find the complete history + bug list, visit quickfolders.mozdev.org/version.html Version 3.0 New create filter wizard makes tidying the inbox even easier. Next thread button for quick newsgroup reading. New instant options dialog.
Connexion
Postbox — A Better Way to Do Email
Awesome Gmail Support* Gmail Label support makes organizing easy Dedicated Important view for high-priority messages Send and Archive your messages in just one step Add detected dates to your Google Calendar Support for Gmail keyboard shortcuts for the power user * If you don't have Gmail, no worries... because Postbox works great with any POP or IMAP email account, including Yahoo!, Hotmail, MobileMe/iCloud, AOL, Comcast, Dreamhost, Rackspace, Zimbra and many more.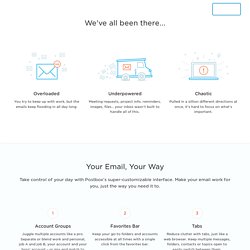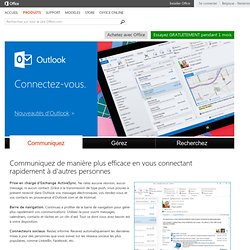 Outlook 2010 - Microsoft Office
Modifiez et partagez votre travail depuis votre Windows Phone ou le web. Office pour Windows Phone et Office Online vous permettent de rester efficace en déplacement. Affichez votre style et votre professionnalisme à l'aide de modèles Office. Parcourez la liste par produit ou par catégorie pour trouver celui qu'il vous faut. Profitez de conseils qui vous permettront d'utiliser Outlook plus efficacement, notamment au niveau de la recherche, du filtrage et de la création de règles.
Ouverture de session Yahoo! - Création de compte
Gmail : la messagerie de Google
Note: this extension is no longer being maintained and will NOT support Firefox 4. People with Offline Gmail enabled: The Gmail Motifier will not work with offline Gmail enabled - Google Gears, which is installed, breaks the extension. I haven't been able yet to figure out how to work around it.
Gmail Notifier :: Modules pour Firefox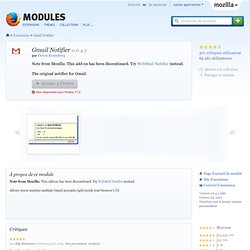 » WiseStamp Email Signatures – Bring Life to your Email
Group conversations are better than ever Send photos or emoji, see when people are engaged in the Hangout and message friends anytime, even if they're not connected right now. Video calls make Hangouts more fun Turn any conversation into a video call with up to 10 friends.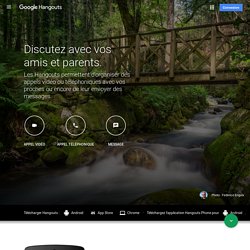 Chat - Chat with family and friends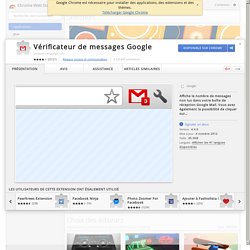 Version : 4.4.0Mise à jour : 4 octobre 2012Taille : 38.82KBLangues : Bahasa Indonesia, Deutsch, English, English (UK), Filipino, Français, Nederlands, Tiếng Việt, Türkçe, català, dansk, eesti, español, español (Latinoamérica), hrvatski, italiano, latviešu, lietuvių, magyar, polski, português (Brasil), português (Portugal), română, slovenský, slovenščina, suomi, svenska, čeština, Ελληνικά, Српски, български, русский, українська, עברית, हिन्दी, ไทย, ‫العربية, 中文 (简体), 中文 (繁體), 日本語, 한국어
Vérificateur de messages Google - Galerie des extensions Google Chrome
Free Email, Unlimited Storage, Anti-Virus & Spam Protection and Personalized Content - Mail.com