New brands
Onia
SAWA SHOES
GANT
R44 Rogan Standard Issue
ROGAN
- SURFACE TO AIR - Paris
Democracy of Nevermind Europe
BLANK JEANS
American Vintage
Habitual
3sixteen
Will Leather Goods
CLOSED
Denimoholic
Nettie Kent Jewelry
Brooklyn Denim Co
Brooklyn Surfer
Jill Platner
Steven Alan
HIXSEPT L OISEAU GRIS
COOPERFISH SURFBOARDS - The Online Source for Classic Surfboards
Hang Loose
T r a n k a s
Hess Surfboards
Hemel Board Company
The Lost and Found Collection
Surf Collective NYC
Surfers Healing
Katin
George Karbus Photography
Emerald Surfwear
Elephant Surf
One Ocean One Love
Sandqvist
Heidi Merrick
GNARSTAR Clothing
M22
Down with Detroit
Love Michigan
Citizenshirt
upstate. clothing
Irishcarver surf pendants and photography
Suplove
Walking On Water
X-Trak Surf Traction
J.Relli Photography
Wave Zone Skimboards
Stoke International Clothing
TYME Industries - Home
Hēlo Clothes
Modern Amusement Official Store
Penny Stock Clothing
Details on Kelly Slater's new VSTR line
I spoke with Jesse Faen and John Moore at Agenda about the new VSTR line by Kelly Slater and Quiksilver. Jesse, who had been with Australian brand Insight for years, is vice president of marketing for VSTR and John Moore and his POP Studio are designing the line. Because Kelly has travelled the world for so long, the brand is travel-minded.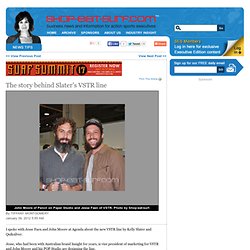 (capsule) Show
MERRITT CHARLES
MINX-MINX
Novella Royale
Vena Cava
Stone_Cold_Fox
Elizabeth and James
Seneca Rising
J BRAND
Torn by Ronny Kobo
House Of Harlow 1960
Moda Viajando Handbags
TAVIK Swimwear
Three Green Hearts
Low Luv
KESS-NYC
Loreak Mendian
Quality Peoples
Tyler Rose Swimwear
Seeworthy Project
Free People
With My Own Two Hands Foundation
Republik of Kalifornia
Indah Clothing
www.facebook.com/l.php?u=http%3A%2F%2Fwww.causes.com%2Fcauses%2F631413&h=WAQFCbNfp
SeaHippie
Salt Swimwear
THE BIKINI FOX
BikiniBird
AILA BLUE
Spanish Moss
L*Space Swimwear
Found Boards
arts
Welcome | greybird
Amazon.com Wish List Store Gallery
Mala Bags
Facebook
Young The Giant Merch - Online Store on District Lines
treefinger
Steve Tran [Bio Spun] - RAWartists.org
RAW:natural born artists - RAW:Orange County presents STIMULUS
What is RAW? RAW:natural born artists is an international independent arts organization that hand-selects and spotlights independent creatives in visual art, film, fashion, music, hair & makeup artistry, photography, models and performing art. RAW's mission is to provide up-and-coming artists of all creative realms with the tools, resources and exposure needed to inspire and cultivate creativity so that they might be seen, heard and loved. RAW educates, connects and exposes emerging artists in over 60 artistic communities across the United States, Australia, Canada and the U.K. through monthly showcase events. Join us in celebrating the work of these artists.
QuickBlade Paddles
captainhelm.com