TED et al
The writer had a problem. Books he read and people he knew had been warning him that the nation and maybe mankind itself had wandered into a sort of creativity doldrums. Economic growth was slackening. The Internet revolution was less awesome than we had anticipated, and the forward march of innovation, once a cultural constant, had slowed to a crawl.
TED talks are lying to you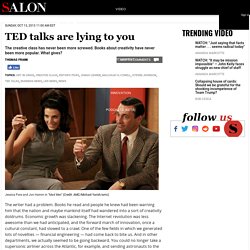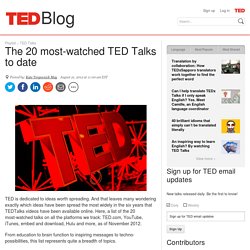 Design The Best TED Images of 2012 2012 has been big for TED — it's the year we reached a billion video views and upped the TED Prize to one million dollars. And since a picture is worth a thousand words, here is a glimpse of the year in photos, taken at TED events as far-flung as Long Beach, Edinburgh, Doha and New York. ... playlist
TED and inequality: The real story
Today TED was subject to a story so misleading it would be funny... except it successfully launched an aggressive online campaign against us. The National Journal alleged we had censored a talk because we considered the issue of inequality "too hot to handle." The story ignited a firestorm of outrage on Reddit, Huffington Post and elsewhere. We were accused of being cowards. How we choose the Ads Six teams of two – made up of one renowned TED speaker and one rising star from the advertising industry – work together to nominate incredible work across specific categories. Twenty-five leading voices in the ad industry act as Advocates and also make nominations. Learn about judging criteria » What winners receive