TED et al
The writer had a problem. Books he read and people he knew had been warning him that the nation and maybe mankind itself had wandered into a sort of creativity doldrums. Economic growth was slackening. The Internet revolution was less awesome than we had anticipated, and the forward march of innovation, once a cultural constant, had slowed to a crawl.
TED talks are lying to you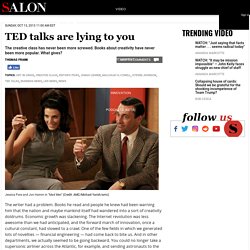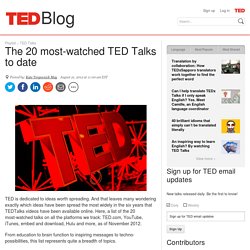 Design The Best TED Images of 2012 2012 has been big for TED — it's the year we reached a billion video views and upped the TED Prize to one million dollars. And since a picture is worth a thousand words, here is a glimpse of the year in photos, taken at TED events as far-flung as Long Beach, Edinburgh, Doha and New York. […] playlist
TED and inequality: The real story
How we choose the Ads Six teams of two – made up of one renowned TED speaker and one rising star from the advertising industry – work together to nominate incredible work across specific categories. Twenty-five leading voices in the ad industry act as Advocates and also make nominations. Learn about judging criteria » What winners receive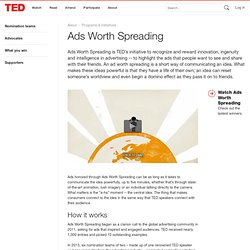 Home Unique Time lapse Videos and Stock Footage Latest Work Blog Sin City June 13, 2013 After scouting a nearby mountain where I thought I could get a good point of view of the whole city, I got on my way for the long hike ahead.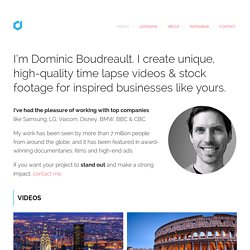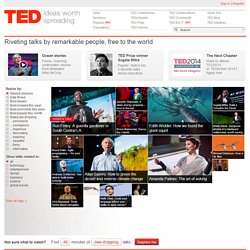 Melinda Gates and Bill Gates Why giving away our wealth has been the most satisfying thing we've done In 1993, Bill and Melinda Gates—then engaged—took a walk on a beach in Zanzibar, and made a bold decision on how they would make sure that their wealth from Microsoft went back into society. In a conversation with Chris Anderson, the couple talks about their work at the Bill & Melinda Gates Foundation, as well as about their marriage, their children, their failures and the satisfaction of giving most of their wealth away.
Today's Big Idea What's the secret to good health? It's no longer a secret, and it's actually fairly simple, even as good health is something that is very hard to achieve in our …society today. According to Dr. H.