TED et al
Boaz Almog "levitates" a superconductor. TED talks are lying to you. The writer had a problem.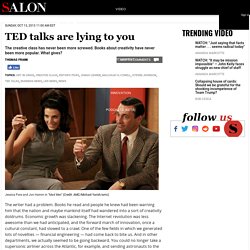 Books he read and people he knew had been warning him that the nation and maybe mankind itself had wandered into a sort of creativity doldrums. Economic growth was slackening. The Internet revolution was less awesome than we had anticipated, and the forward march of innovation, once a cultural constant, had slowed to a crawl. Eli Pariser: Beware online "filter bubbles". The 20 most-watched TED Talks to date. Design The Best TED Images of 2012 2012 has been big for TED — it's the year we reached a billion video views and upped the TED Prize to one million dollars.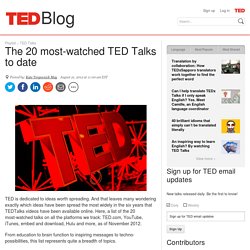 And since a picture is worth a thousand words, here is a glimpse of the year in photos, taken at TED events as far-flung as Long Beach, Edinburgh, Doha and New York. […] playlist. TED and inequality: The real story. Ads Worth Spreading. Ads honored through Ads Worth Spreading can be as long as it takes to communicate the idea powerfully, up to five minutes, whether that's through state-of-the-art animation, lush imagery or an individual talking directly to the camera.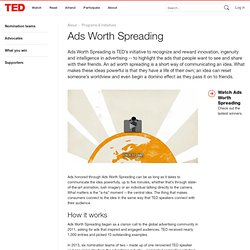 What matters is the "a-ha" moment -- the central idea. The thing that makes consumers connect to the idea in the same way that TED speakers connect with their audience. Ads Worth Spreading began as a clarion call to the global advertising community in 2011, asking for ads that inspired and engaged audiences. TED received nearly 1,000 entries and picked 10 outstanding examples. Dominic Boudreault - home. TED: Ideas worth spreading. Videos on the People, Issues, and Ideas Changing the World.
---