How to...
30 Life-Enhancing Things You Can Do in 30 Minutes or Less. Post written by: Marc Chernoff Email Many of us attempt to measure our happiness based on the duration of certain favorable experiences in our lives.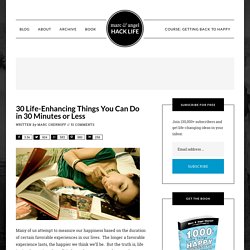 The longer a favorable experience lasts, the happier we think we'll be. But the truth is, life is simply a string of small, independent moments that are always changing. Thus, a few minutes well spent here and there can make a big difference in what we get out of life in the long-term. Nine Things Successful People Do Differently - Heidi Grant Halvorson. Learn more about the science of success with Heidi Grant Halvorson's HBR Single, based on this blog post.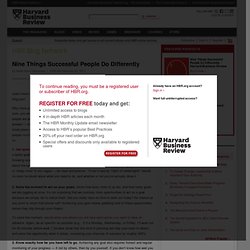 Why have you been so successful in reaching some of your goals, but not others? If you aren't sure, you are far from alone in your confusion.
Budget. Hack your life. Routine + habit change. Start thinking differently. Be more balanced, happy, zen. Life lessons and golden rules. Exercise and health.
Stay creative - be productive. 50 Life Secrets and Tips. The Age of Revolution: 10 Lessons for Leaders of the Change Generation. "If your actions inspire others to dream more, learn more, do more and become more, you are a leader."John Quincy AdamsTweet 1) Follow Your Internal Compass and Empower Others to Do The Same Deep down everyone knows the direction they should go in, however, fear and uncertainty can often paralyze the strongest ambition.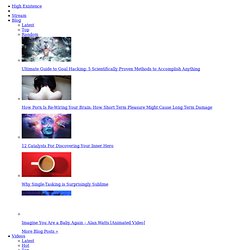 You must learn to listen and trust your internal compass if you are to ever discover your own potential. By living a life that is authentic to whom you are or wish to be, you will indirectly empower everyone you come in contact with to discover their own strength. Do 3 Essential Tasks Everyday. No More. No Less. Designed by Dmitry Baranovskiy for the Noun Project The creative routines of famous creatives has been popular internet fodder this year.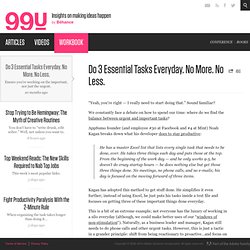 The Pacific Standard thinks this obsession and trend of emulating famous artist's habits is problematic, to say the least. 10 Life-Enhancing Things You Can Do in Ten Minutes or Less. It usually takes us much longer to change our moods than we'd like it to take.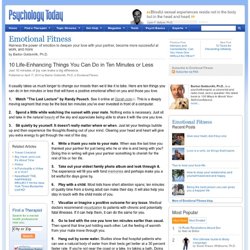 Here are ten things you can do in ten minutes or less that will have a positive emotional effect on you and those you love. . See it online at Oprah.com . This is a deeply moving segment that may be the best ten minutes you've ever invested in front of a computer. . 60 Small Ways to Improve Your Life. Contrary to popular belief, you don't have to make drastic changes in order to notice an improvement in the quality of your life.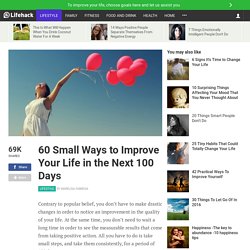 At the same time, you don't need to wait a long time in order to see the measurable results that come from taking positive action. All you have to do is take small steps, and take them consistently, for a period of 100 days. Below you'll find 60 small ways to improve all areas of your life in the next 100 days. Home 1. 28 Dignified Ways to Impress Everyone Around You. Post written by: Marc Chernoff Email Far more often than any of us like to admit, our actions are driven by an inner desire to impress other people.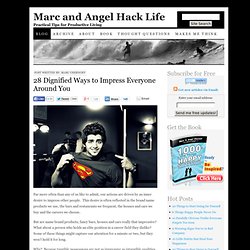 This desire is often reflected in the brand name products we use, the bars and restaurants we frequent, the houses and cars we buy and the careers we choose. But are name brand products, fancy bars, houses and cars really that impressive? 27 Traits Of Successful People. Is it really possible to become a successful person in just one day?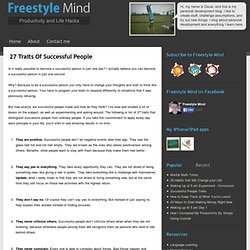 I actually believe you can become a successful person in just one second. Why? Because to be a successful person you only have to change your thoughts and start to think like a successful person. Your have to program your brain to respond differently to situations that it was previously refusing. 70 Reminders to Help You Break Any Barrier. I am pleased to introduce this guest article by a new friend John, the creator of HiLife2B, where he hopes to inspire people and to help them achieve their dreams.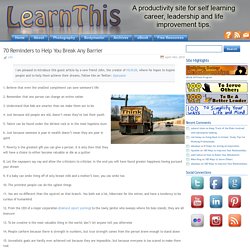 Follow him on Twitter: @janyasor 1. Personal Development for Smart People - Steve Pavlina. 50 Things You Need To Give Up Today. Post written by: Marc Chernoff Email When you stop chasing the wrong things, you give the right things a chance to catch you.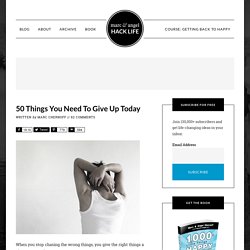 So starting today… Give up trying to be perfect. – The real world doesn't reward perfectionists, it rewards people who get things done. 50 Ways To Be AWESOME. By Meg RulliFebruary 18, 2013 Sharebar Tony and I just completed our trip around the world and as we are reconnecting with friends and family from home, I keep getting asked the same question: "Did travel change you?" In short: Nope! 50 Important Advice and Things To Know That People Usually Aren't Told About. Life is complicated. It is not easy, smooth, or even consistently comprehensible. However, as frustrating as it may be, it is wonderful. The world has infinite possibilities for everyone, even when things seem hopeless.
No one person has all the answers to living a happy life, but each individual has something to share. Whether young or old, every person has learned something in their life that they can offer as advice to others. 30 Things to Stop Doing to Yourself. Post written by: Marc Chernoff Email When you stop chasing the wrong things you give the right things a chance to catch you. As Maria Robinson once said, "Nobody can go back and start a new beginning, but anyone can start today and make a new ending." Nothing could be closer to the truth. But before you can begin this process of transformation you have to stop doing the things that have been holding you back.
50 (More) Life Secrets and Tips. Investigate what is known about deathWhat do you know about death? You certainly have beliefs around it, but what do you know about the science of death, or of those who have died and been brought back to life? Death is not as big of a mystery as it is made out to be. Do your research before you fear or misconstrue this most universal human experience.Notice the small, beautiful thingsAs cliche as this sounds, there is so much beauty in the world yet we rarely appreciate it.
Take 5 minutes, stop doing everything and sit down. Reboot your life: 20 mental barriers you should let go of. 30 Habits that Will Change your Life. 8 Harsh Truths that Will Improve Your Life. Marc and Angel Hack Life - Practical Tips for Productive Living. Grit: The Other 21st Century Skills. Hoe het leven één grote vakantie wordt. 100 Simple Ways to Change Your Life for the Better | Nerds Do It Better. 101 Ways To Live Your Life To The Fullest. Developing Character, Courage & College Readiness. Start Every Day as a Producer, Not a Consumer. The 90 Best Lifehacks of 2009: The Year in Review.
The 100 Best Lifehacks of 2010: The Year in Review. 50 Tricks to Get Things Done Faster, Better, and More Easily. 7 Secrets of the Super Organized. How to Do Nothing. 71 Things You Can Do. 6 Quick Hacks On Becoming A More Likeable Person » How To Become Wildly Popular | How To Become Wildly Popular. 50 Rules to Live Your Life by. How to master your life - Leading a better life - Quora. This Poster Changed My Life. ~ Nicole Duncan. 10 simple ways to save yourself from messing up your life - Step. Accelerate Your Personal Development By Getting Acquainted With Your 7 Invisible Organs. Everyone Dies But Not Everyone Lives: Stop Worrying And Start Living. Living on purpose and why confusion is comfortable. / Limitless365.
The Future is Ours. 42 Practical Ways To Improve Yourself. Self Improvement. » The Really Simple Way to Get Work Done. How to Be Alone. 50 Life Secrets and Tips. Personal Development for Smart People - Steve Pavlina. Seven Weird Habits That Will Change Your Life. 12 Rules for Being a Human Being. How To Succeed At Anything By Being Yourself | People and Chairs. 60 Ways to Improve Your Life. How to Do a Proper Self-Review and Identify Your Professional Pain Points (Before Your Boss Does) The 80 Best Lifehacks of 2008. 3 Questions To Kill Every Excuse You've Ever Had. Resilience: The Other 21st Century Skills. Nine Things Successful People Do Differently. 174,203 Things You Can Do Instead of Watching TV. The Top 100 Productivity and Lifehack Blogs for College Students. 30 Challenges for 30 Days. 21 Pictures That Will Restore Your Faith In Humanity. Maybe ? 77 Creative Ways to Lighten Up In Tough Times. 50 Life Secrets and Tips Pt. 2.
Top 10 Hacks for Automating Your Life.
---