Robots
Robotique de service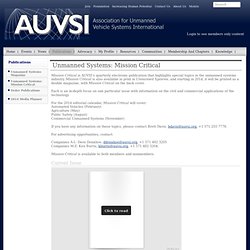 Unmanned Systems: Mission Critical - Association for Unmanned Vehicle Systems International
Mission Critical is AUVSI's quarterly electronic publication that highlights special topics in the unmanned systems industry.
TEDxLyon - Catherine Simon - Vive la Robolution!
Exploring and designing our future robot companions | Lirec *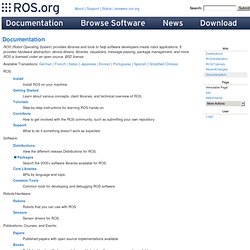 ROS (Robot Operating System) provides libraries and tools to help software developers create robot applications. It provides hardware abstraction, device drivers, libraries, visualizers, message-passing, package management, and more. ROS is licensed under an open source, BSD license.
unnamed pearl
655
Objectifs
MAV Research Center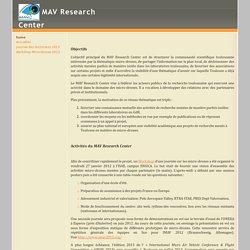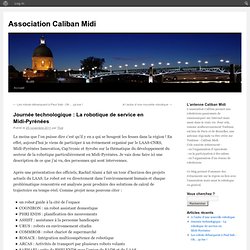 Le moins que l'on puisse dire c'est qu'il y en a qui se bougent les fesses dans la région ! En effet, aujourd'hui je viens de participer à un évènement organisé par le LAAS-CNRS, Midi-Pyrénées Innovation, Cap'tronic et Syrobo sur la thématique du développement du secteur de la robotique particulièrement en Midi-Pyrénées.
Journée technologique : La robotique de service en Midi-Pyrénées | Association Caliban Midi
1.7.1.A Robotique - électronique
Le site du G.D.R. Robotique :. Accueil :. Aujourd'hui nous sommes le lundi 12 décembre 2011
InnoRobo - European Summit - Lyon Mars 2012