Curation
10 Use Cases for Content Curation in Mktg. Content curation offers the promise of addressing both information consumers' and marketers' challenges in taming the flood of digital information.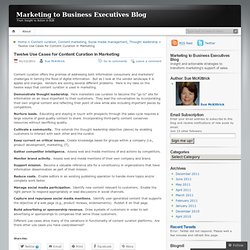 But as I look at the vendor landscape it is apples and oranges. Vendors are solving several different problems. Here is my take on the twelve ways that content curation is used in marketing. Demonstrate thought leadership. Conscious Curation « SweetMedia. Thanks to Tom Foremski and Oliver Starr for inviting me to share my thoughts on curation at last night's salon, and to the group for a lively discussion.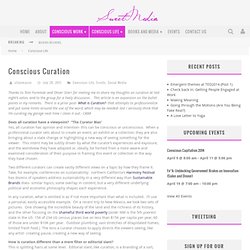 This article is an expansion on the bullet points in my remarks. There is a prior post- What is Curation? - that attempts to professionalize and put some limits around the use of the word, which may be needed- lest I seriously think that I'm curating my garage next time I clean it out.- CMM Does all curation have a viewpoint? "The Curator Bias" Yes, all curation has opinion and intention- this can be conscious or unconscious.
Curation Is The New Creation - Social Media Notes. "Curation taps the vast, agile, engaged human power of the web.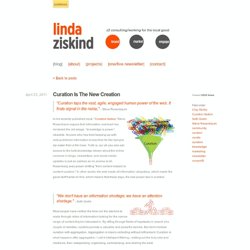 It finds signal in the noise. " - Steve Rosenbaum In his recently published book, " Curation Nation ," Steve Rosenbaum argues that information overload has rendered the old adage, "knowledge is power," obsolete.
---