<3 Music
Ministry of Magic | Free Music, Tour Dates, Photos, Videos
Ministry of Magic - House Song
Chiodos.net
Hello! We're ALL CAPS and sometimes we forget important things… like the fact that we have a website. Haha. To avoid confusion, the fall tour dates that were previously listed on the "Shows" page have been deleted, since those were tour dates from 2010 and are not where we're going to be in 2011. New tour dates will be posted on that page as we have the information to give you, so keep checking back! In band related news, Luke and I just got back from playing an AWESOME show at Playlist Live in Orlando!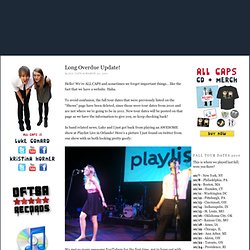 ALL CAPS
Chameleon Circuit - DFTBA
From DFTBA This page is about the British rock band. For the band's debut album, see Chameleon Circuit (album) . Chameleon Circuit are a British rock band known for inventing and popularizing the music genre Time Lord Rock, often shortened to "Trock". Chameleon Circuit formed August 6th, 2008.