Revit
In this video, an introduction is given to the free CASE monthly add-in. The Import openNURBS add-in allows you to open a Rhino file (.3dm) directly in Revit! Get it HERE!
| DesignReform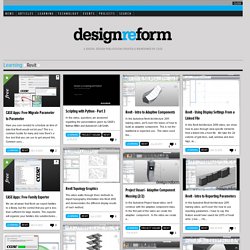 Revit Fundamentals
2013 Center for Green Schools President's Award: Mary Spilde, Lane Community College At the Greenbuild International Conference and Expo in Philadelphia in November 2013, USGBC recognized those who've shown outstanding dedication to the movement to green our built environment through the annual Leadership Awards. Mary Spilde, president of Lane Community College in Eugene, Ore., received the 2013 Center for Green Schools President's Award, one of two awards given each year to outstanding college and university presidents, one from a two-year and one from a four-year institution... The green building community is rooting for the Eagles this NFL post-season Greenbuild 2013 meets Greenbuild 2014 when the Philadelphia Eagles meet the New Orleans Saints in the first round of the NFL playoffs this weekend, and much of the green building community will be cheering for the team in green.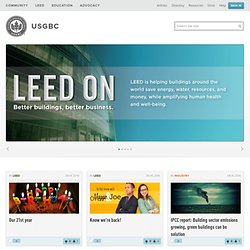 Free Revit Tutorials Online | revittutorialsonline.com | Autodesk Revit Architecture tutorials and families. Online! Free!
Welcome to YouTube! The location filter shows you popular videos from the selected country or region on lists like Most Viewed and in search results.To change your location filter, please use the links in the footer at the bottom of the page. Click "OK" to accept this setting, or click "Cancel" to set your location filter to "Worldwide".
Autodesk Yale BIM Symposium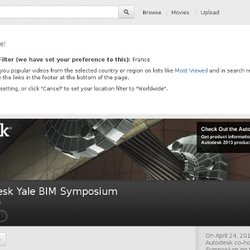 Introduction This white paper looks at using mental ray® software for architectural visualization. Autodesk® 3ds Max® 9 software includes many major feature and workflow improvements to reduce complexity and make rendering with mental ray far more approachable for Architects and designers. This document summarizes the important aspects of photorealistic renderings that Architects, designers and visualization professionals may want to consider when creating presentation images, visualizations for design review, or physical analysis of lighting. It identifies the main areas involved in physically based renderings and provides guidance as well as tips-and-tricks on how to use them in 3ds Max. The main areas of focus include:
Using 3ds Max and mental ray for Architectural Visualization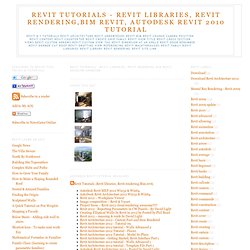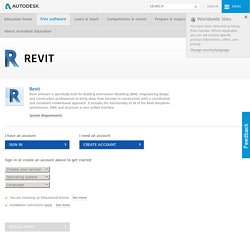 Revit Autodesk® Revit® software is specifically built for Building Information Modeling (BIM), empowering design and construction professionals to bring ideas from concept to construction with a coordinated and consistent model-based approach. It includes the functionality of all the Revit disciplines (architecture, MEP, and structure) in one unified interface. Free for students: Create photorealistic images and panoramas using Autodesk® 360 Rendering. Learn more. System requirements
Revit Architecture 2011 English Tutorials
Environmental Design and Technology 2011 Curriculum
The Environmental Design and Technology 2011 curriculum is a program intended to help high school students apply their science, technology, engineering, and mathematics (STEM) knowledge to real-world problems. Students can learn about sustainable building practices through interactive exercises designed to help reinforce understanding. This curriculum is part of a new high school course being taught in Washington State. The industry-based, hands-on course focuses on four major themes: the nature of sustainability; the technical methods, practices, and materials that support sustainability; systems theory as it applies to the complex interrelationships among humans, the built environment, information management, and the natural world; and the validity of ethics and values in the decision-making processes in regard to energy management.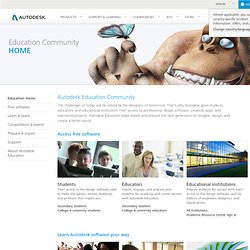 Conceptual Design 2011 Curriculum
Image courtesy of Hobart, Yanez, Ramos, Maguey and Martinez The Autodesk Conceptual Design 2011 curriculum includes objectives and key terminology, and combines theory and practice from scientific principles to hands-on application. A handful of architecture professors and practitioners developed these professional modular lessons and interactive teaching tools that support the fundamentals of conceptual design using the Autodesk® BIM portfolio. Promote success by utilizing the complete kit of professionally developed instructor tools, student workbooks, and datasets that may be seamlessly integrated into your curriculum. Download Complete Kit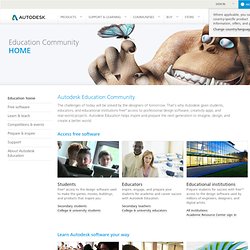 Image courtesy of Cannon Design Unit 1 — BIM Modeling Basics Lesson 1: Modeling Building Elements
BIM for Architecture, Engineering, and Construction Management 2011 Curriculum: Tutorial Videos