Grasshopper
(As reported earlier in this previous post) Daniel Piker is developing ways to accurately simulate physical behavior in his Grasshopper component "Kangaroo".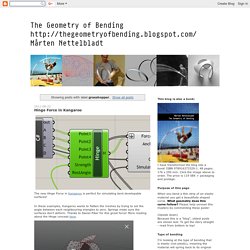 grasshopper
Click here to edit contents of this page.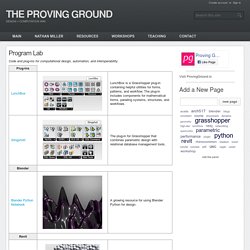 Program Lab
designplaygrounds.com
ComputationalMatter
buildz
Generator.x: Software and generative strategies in art and design
[FORMul[a]RCH]
The Proving Ground by Nathan Miller
Biothing
Computational design
CTM.08­ – Unpredictable Festival for Adventurous Music and Related Visual Arts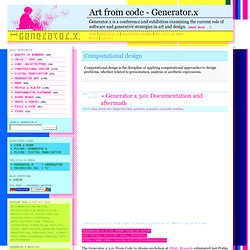 Grupo de Diseño Emergente
Daniel Widrig
Rhino ++ Grasshopper – Plethora Project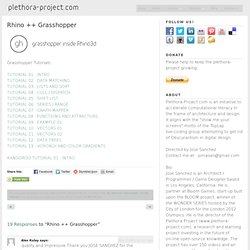 Plethora-Project.com is an initiative to accelerate computational literacy in the frame of architecture and design. It aligns with the "show me your screens" motto of the TopLap live-coding group attempting to get rid of Obscurantism in digital design. Directed by Jose Sanchez Contact me at : jomasan@gmail.com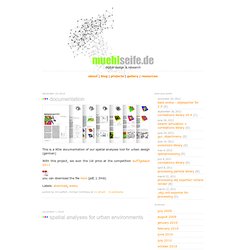 muehlseife
The aim of the project is to question the role of computer-aided design methods in urban development, to ask in which parts of the design process the use of the computer can be appropriate.
Demos | www.christopherwhitelaw.us
Experiments | Giulio Piacentino
Michael Hansmeyer - Computational Architecture: Publications
designalyze - designalyze: the analysis of design
SJET
Re-Thinking CAD Standards: Why there's never a good time, and never a better time…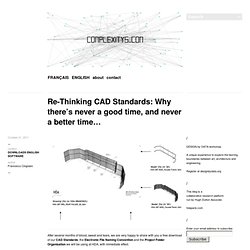 After several months of blood, sweat and tears, we are very happy to share with you a free download of our CAD Standards, the Electronic File Naming Convention and the Project Folder Organisation we will be using at HDA, with immediate effect. We are a hybrid team of architects, designers and engineers. Even though we strongly believe in this interdisciplinary approach, we understand that it presents difficulties in achieving coherence and clarity in our management systems.
Curved Folding - foldable=makable
sgHome
NeoArchaic Design
Inicio - SMARTCITY
DEFINITIONS « Explode_BReps @ UVa
IE Univeristy | arquitecturadevoltereta
A-ngine
RhinoFabLab - Design + Optimization + Fabrication
MORPHOCODE
designcoding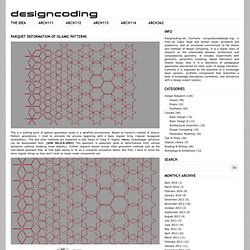 This is a starting point of pattern generation study in a dataflow environment.
SMD Arquitectes
Massive Grasshopper Attack!
p i n u p s p a c e
Posts Tagged 'Rhinoscript'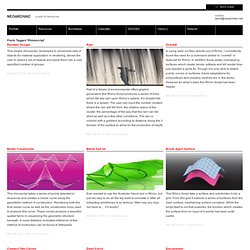 Rhinoscript | neoarchaic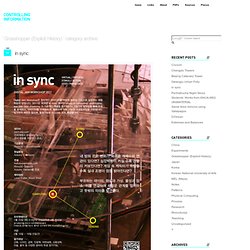 Same Area Voronoi using Galapagos
Grasshopper (Explicit History)
STUDIOSEED | Experimental Studio: Energy, Design, Architecture & Programming
CERVER.org | Architecture - Design - Computation
Antonio Turiello
Digital Design + Fabrication » Grasshopper: Visual Introduction
Archpaintvisuals
Grasshopper Modules - Proxy Wiki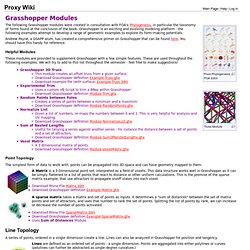 From Phylogenesis, FOA 2003 The following Grasshopper modules were created in consultation with FOA's Phylogenesis, in particular the taxonomy of forms found at the conclusion of the book. Grasshopper is an exciting and evolving modeling platform - the following examples attempt to develop a range of geometric examples to explore its form-making potentials. Andrew Payne, a GSAPP alum, has created a comprehensive primer on Grasshopper that can be found here.
GRASSHOPPER TUTORIALS + EXERCISES | ex-Lab
With the latest HYBIOS, we adopted a new approach. This time the experiment was based on a digital FormFinding algorithm using Daniel Piker's Kangaroo Plugin for Grasshopper. The new experiment also resolved some of the issues of the previous experiment.
hybridbiostructures: DigiHYBIOS 1.0 & AnaHYBIOS 3.0 / New Approach: From Digital FormFinding to Analogue Methods
WooJae's Blog
Grasshopper Tweets | Andrea Graziano Twitter
GH hexagonal mesh 01
With this definition we can plot all kinds of patterns formed by planar closed curves on a surface with double curvature achieving this effect of skin with variable apertures depending on their distance to one or more points attractors. The script works optimizing meshes to obtain a smooth skin using weaverbird component. CONFLUENCES_workshop series
MATSYS
makeahybrid
the disContinuum - grasshopper
ParametricModel - a library of parts
Approxymotion is research project focusing on motion based forming. Its an attempt to apply the logic of digital design into the physical space.
Archive » Approxymotion by Peter A Vikar
Proxy Wiki
MARC FORNES & THEVERYMANY™
suckerPUNCH
Rhinoscripting Resources
@improved
Videos - RhinoJungle
Grasshooper component Attractor | designbymany
SJET
Terreform ONE (Open Network Ecology)
RHINO: GRASSHOPPER DEFINITIONS - RHINO / GH - architectural rendering and illustration blog
DesignReform | A technology publication created & maintained by case
grasshopper tutorials
Grasshopper tools in C# | Giulio Piacentino
Blog Archive » Attracted Flows
supermanoeuvre
Videos
Tutorial - Blogs
Archiving the World's Built Environment
AADRL.net - Architectural Association Design Research Laboratory MArch
Digital Design + Fabrication » Parametric Modeling
SJET
Datavisualization
complexitys | architecture and complex geometries
Workshops | Giulio Piacentino
Internet of Things Platform Connecting Devices and Apps for Real-Time Control and Data Storage
LIVE COMPONENTS
ParaMod.net
11 Grasshopper – Tutorials, Software and Definitions | ade521fall11.wordpress.com
Digital Design & Computation « Ming3D
grasshopper basic | digitaltoolbox
p i n u p s p a c e
**SOFTlab**
MESH MAKER from Curves Intersection – Arthur Mani ltd.
Grasshopper | neoarchaic
LIVE COMPONENTS
Tutorials
Plethora Project
Category:Tutorials Grasshopper - TOI-Pedia
Generative Design Computing: Grasshopper
Æsthe/tech:Tonik