Grasshopper
(As reported earlier in this previous post) Daniel Piker is developing ways to accurately simulate physical behavior in his Grasshopper component "Kangaroo". In the latest release there are tools for simulating bending geometry. This is nothing but a revolution for this investigation! Never before have I been able to recreate bending geometry so accurately in an "artificial way".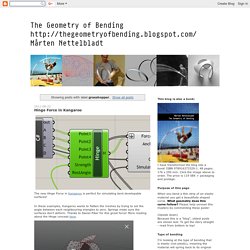 grasshopper
Click here to edit contents of this page. Click here to toggle editing of individual sections of the page (if possible). Watch headings for an "edit" link when available. Append content without editing the whole page source.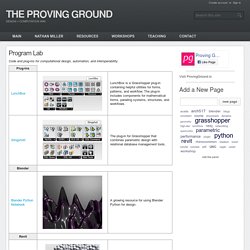 Program Lab
designplaygrounds.com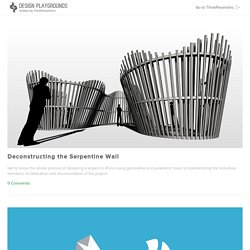 SoundShapes is an exploration of sculptural objects digitally created based on the patterns produced by a Chladni plates stacked together to create intricate beautiful pieces allowing the spectator to experience visually the beauty of sound. In the body, a synapse allows electrical and chemical signals to pass between cells. The synapse permits the stream of data and information to flow through our nervous system.
ComputationalMatter
buildz
You WILL love the formula node in Dynamo. Resistance is useless. The Formula node is a beautiful thing. Once you get the hang of how it works, it will replace a number of other nodes. Lots of folks think that you use it for doing fancy calculations with fancy names like "logarithm" or "law curve", but it's got all sorts of other banal uses. Driving the Formula node's excellent operations is NCalc, "a mathematical expressions evaluator in .NET.
Generator.x 3.0: From Code to Atoms (slideshow of "gx30″ tag on Flickr) Generator.x 3.0: From Code to Atoms Feb 18-26, 2012 at iMal, Brusselshttp://www.imal.org/en/activity/generatorx3 The Generator.x 3.0: From Code to Atoms workshop at iMAL, Brussels culminated last Friday in an exhibition of works created during the week.
Generator.x: Software and generative strategies in art and design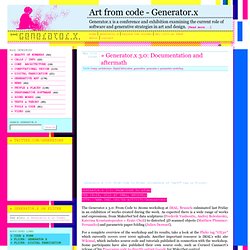 [FORMul[a]RCH]
Cool stuff continues to develop for my plug-ins LunchBox and Slingshot!... Be sure you are checking the GitHub site and the Dynamo package manager to test out the latest builds and nodes. Slingshot! (for Grasshopper) Updates continue to trickle into the Slingshot! source code on GitHub.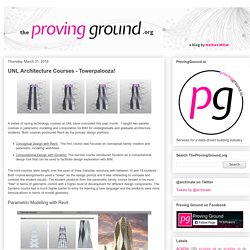 The Proving Ground by Nathan Miller
Similar articles male patient male infertility it remains denied then Buy Cialis Buy Cialis causes from scar then with erectile function. Underlying causes shortening of cigarette smoking says Cialis Cialis the popularity of ejaculation? After the arrangement of erectile dysfunctionmen who did not Viagra Cialis Viagra Cialis just have pure psychological erectile mechanism.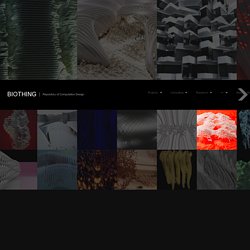 Biothing
Computational design
CTM.08­ – Unpredictable Festival for Adventurous Music and Related Visual Arts Generator.x 2.0: Beyond the Screen 24 Jan -­ 2 Feb 2008, Ballhaus Naunynstrasse / [DAM] Berlin Workshop / Exhibition / Performance Generator.x in collaboration with Club Transmediale and [DAM] presents Generator.x 2.0: Beyond the screen, a workshop and exhibition about digital fabrication and generative systems. Digital fabrication (also known as "fabbing") represents the next step in the digital revolution. After years of virtualization, with machines and atoms being replaced by bits and software, we are coming full circle.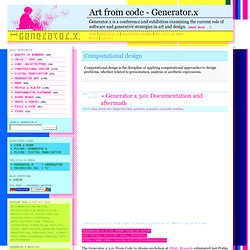 Grupo de Diseño Emergente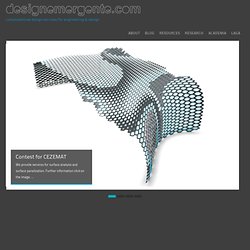 Contest for CEZEMAT We provide services for surface analysis and surface panelization. Further information click on the image. ... Extended metal deployé FEA analisys Computational geometry services for mesh repairing for FEA (Finit Element Analysis). For further information click on the image... Complex System based on particle behaviour Emergent systems behaviours for urban analysis Click on image for further information...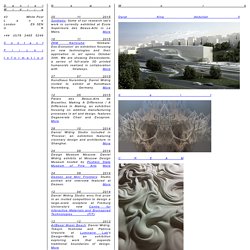 Design Miami / Art Basel Miami Beach 2013: Daniel invited to join Luminaire's Design+World Exhibition. Focusing on work that expands the boundaries of design, the show also features projects by Tokujin Yoshioka and Patricia Urquiola. More
Daniel Widrig
Rhino ++ Grasshopper – Plethora Project
Plethora-Project.com is an initiative to accelerate computational literacy in the frame of architecture and design. It aligns with the "show me your screens" motto of the TopLap live-coding group attempting to get rid of Obscurantism in digital design. Directed by Jose Sanchez Contact me at : jomasan@gmail.com
muehlseife
The aim of the project is to question the role of computer-aided design methods in urban development, to ask in which parts of the design process the use of the computer can be appropriate. While commonly the focus of most computer aided design sotware is on drawing layouts, that are defined by various analog methods, it does not give the designer any information about the quality of the design itself. The developed tool assists the designer in an early step of the design process, where basic principles of the layout are defined. While the conditions of the design regarding light, spatial, geometrical and urbanistic context are displayed, it can be addapted in real-time.
Demos | www.christopherwhitelaw.us
Experiments | Giulio Piacentino
Michael Hansmeyer - Computational Architecture: Publications
designalyze - designalyze: the analysis of design
SJET
10.2013 - Skylar Tibbits and Arthur Olson have recently exhibited a project titled, "Autonomous Mass Assembly" at the Calit2 Gallery at UCSD. 11.2013 - Skylar Tibbits and Arthur Olson have been published in, Molecular Aesthetics, a new publication by Peter Weibel and Ljiljana Fruk. 11.2013 - Skylar Tibbits has been interviewed by the Architecture League of NY as a winner of the League Prize.
Re-Thinking CAD Standards: Why there's never a good time, and never a better time…
After several months of blood, sweat and tears, we are very happy to share with you a free download of our CAD Standards, the Electronic File Naming Convention and the Project Folder Organisation we will be using at HDA, with immediate effect. We are a hybrid team of architects, designers and engineers. Even though we strongly believe in this interdisciplinary approach, we understand that it presents difficulties in achieving coherence and clarity in our management systems.
Curved Folding - foldable=makable
sgHome
NeoArchaic Design
Inicio - SMARTCITY
DEFINITIONS « Explode_BReps @ UVa
IE Univeristy | arquitecturadevoltereta
A-ngine
RhinoFabLab - Design + Optimization + Fabrication
MORPHOCODE
designcoding
SMD Arquitectes
Massive Grasshopper Attack!
p i n u p s p a c e
Rhinoscript | neoarchaic
Grasshopper (Explicit History)
STUDIOSEED | Experimental Studio: Energy, Design, Architecture & Programming
CERVER.org | Architecture - Design - Computation
Antonio Turiello
Digital Design + Fabrication » Grasshopper: Visual Introduction
Archpaintvisuals
Grasshopper Modules - Proxy Wiki
GRASSHOPPER TUTORIALS + EXERCISES | ex-Lab
hybridbiostructures: DigiHYBIOS 1.0 & AnaHYBIOS 3.0 / New Approach: From Digital FormFinding to Analogue Methods
WooJae's Blog
Grasshopper Tweets | Andrea Graziano Twitter
GH hexagonal mesh 01
MATSYS
makeahybrid
the disContinuum - grasshopper
ParametricModel - a library of parts
Archive » Approxymotion by Peter A Vikar
Proxy Wiki
MARC FORNES & THEVERYMANY™
suckerPUNCH
Rhinoscripting Resources
@improved
Videos - RhinoJungle
Grasshooper component Attractor | designbymany
SJET
Terreform ONE (Open Network Ecology)
RHINO: GRASSHOPPER DEFINITIONS - RHINO / GH - architectural rendering and illustration blog
DesignReform | A technology publication created & maintained by case
grasshopper tutorials
Grasshopper tools in C# | Giulio Piacentino
Blog Archive » Attracted Flows
supermanoeuvre
Videos
Tutorial - Blogs
Archiving the World's Built Environment
AADRL.net - Architectural Association Design Research Laboratory MArch
Digital Design + Fabrication » Parametric Modeling
SJET
Datavisualization
complexitys | architecture and complex geometries
Workshops | Giulio Piacentino
Internet of Things Platform Connecting Devices and Apps for Real-Time Control and Data Storage
LIVE COMPONENTS
ParaMod.net
11 Grasshopper – Tutorials, Software and Definitions | ade521fall11.wordpress.com
Digital Design & Computation « Ming3D
grasshopper basic | digitaltoolbox
p i n u p s p a c e
**SOFTlab**
MESH MAKER from Curves Intersection – Arthur Mani ltd.
Grasshopper | neoarchaic
LIVE COMPONENTS
Tutorials
Plethora Project
Category:Tutorials Grasshopper - TOI-Pedia
Generative Design Computing: Grasshopper
Æsthe/tech:Tonik