Interesting
Company Makes Custom Stuffed Toys Out of Children's Drawings. Child's Own Studio does something pretty neat: If you supply the studio with a drawing a child made, the studio will produce a stuffed toy using the child's drawing as the blueprint.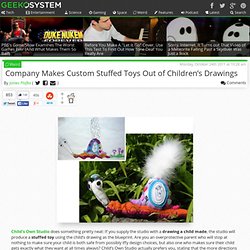 Are you an overprotective parent who will stop at nothing to make sure your child is both safe from possibly iffy design choices, but also one who makes sure their child gets exactly what they want at all times always? Child's Own Studio actually prefers you, stating that the more directions provided, the better. On the site's official FAQ, it is noted that there isn't a set price, and the studio will provide a quote once the child's drawing is received, though standard U.S. and Canadian shipping will cost $15.
The toy ends up being around 12 to 14 inches long on average, and the toy takes about 2 to 4 weeks to make once the payment is received, though rush orders are possible, there will be an extra fee for that. Twine: The Revolutionary Box That Can Make Your Appliances Tweet. The day when your washer emails to say your clothes are clean and your basement tweets when it's flooding is closer than we thought, and it doesn't look at all as expected.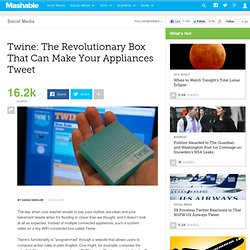 Instead of multiple connected appliances, such a system relies on a tiny WiFi-connected box called Twine. Twine's functionality is "programmed" through a website that allows users to compose action rules in plain English. One might, for example, compose the rule, "WHEN moisture sensor gets wet THEN tweet, 'The basement is flooding!' " Programming the device is about as difficult as playing Mad Libs. Options are endless. China's deserted fake Disneyland. By David Gray Along the road to one of China's most famous tourist landmarks – the Great Wall of China – sits what could potentially have been another such tourist destination, but now stands as an example of modern-day China and the problems facing it.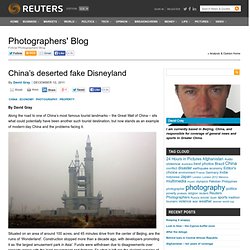 Situated on an area of around 100 acres, and 45 minutes drive from the center of Beijing, are the ruins of 'Wonderland'. Construction stopped more than a decade ago, with developers promoting it as 'the largest amusement park in Asia'. 25 clever ideas to make life easier. Via: amy-newnostalgia.blogspot.com Why didn't I think of that?!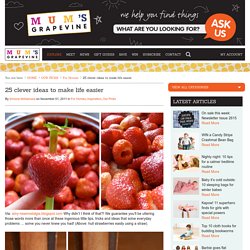 We guarantee you'll be uttering those words more than once at these ingenious little tips, tricks and ideas that solve everyday problems … some you never knew you had! (Above: hull strawberries easily using a straw). 7 Movies That Put Insane Work Into Details You Didn't Notice. Easter eggs are usually kind of a bum deal.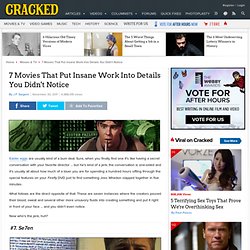 Sure, when you finally find one it's like having a secret conversation with your favorite director ... but he's kind of a jerk, the conversation is one-sided and it's usually all about how much of a loser you are for spending a hundred hours sifting through the special features on your Firefly DVD just to find something Joss Whedon slapped together in five minutes. What follows are the direct opposite of that: These are seven instances where the creators poured their blood, sweat and several other more unsavory fluids into creating something and put it right in front of your face ... and you didn't even notice. Now who's the jerk, huh? #7. The 6 Creepiest Places on Earth. It doesn't matter whether or not you believe in ghosts, there are some places in which none of us would want to spend a night.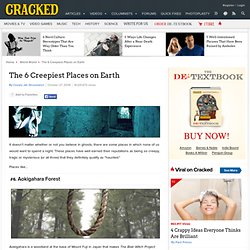 These places have well earned their reputations as being so creepy, tragic or mysterious (or all three) that they definitely qualify as "haunted. " Places like... 5 Ways To Hack Your Brain Into Awesomeness. Much of the brain is still mysterious to modern science, possibly because modern science itself is using brains to analyze it.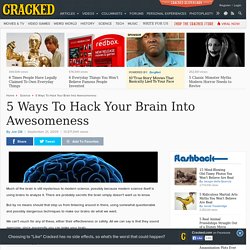 There are probably secrets the brain simply doesn't want us to know. But by no means should that stop us from tinkering around in there, using somewhat questionable and possibly dangerous techniques to make our brains do what we want. We can't vouch for any of these, either their effectiveness or safety. 11 Unusual Household Uses For Food Items That Will Save You Money. Photo: charles chan * The next time you find yourself in need of a household product like stain remover, shower cleaner or ant deterrent, check the pantry before heading to the store.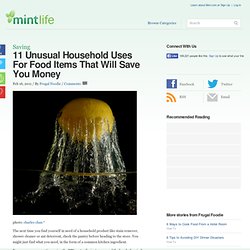 You might just find what you need, in the form of a common kitchen ingredient. From a green perspective, going the DIY route eliminates some of the harsh chemicals in your home, reducing your family's exposure to them. Of All The People in All the World. Of All The People In All The World, a traveling art exhibit in the UK, uses grains of rice to bring the large numbers behind world populations to the grasp of the average human being.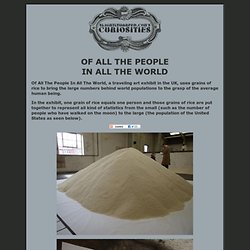 In the exhibit, one grain of rice equals one person and those grains of rice are put together to represent all kind of statistics from the small (such as the number of people who have walked on the moon) to the large (the population of the United States as seen below). Link. Amazing Fact Generator - StumbleUpon. Hands | Connections | The Metropolitan Museum of Art. "Hands" by Alice Schwarz1280852 The Hand of God | modeled ca. 1896, this marble executed ca. 1907 | Auguste Rodin (French) | Marble | Gift of Edward D.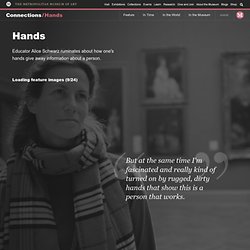 Adams, 1908 (08.210)8951024 Ernesta (Child with Nurse) | 1894 | Cecilia Beaux (American) | Oil on canvas | Maria DeWitt Jesup Fund, 1965 (65.49)7691024 Lady Elizabeth Hamilton (1753–1797), Countess of Derby | 1776–78 | George Romney (British) | Oil on canvas | The Jules Bache Collection, 1949 (49.7.57)8171024 Lady Elizabeth Hamilton (1753–1797), Countess of Derby | 1776–78 | George Romney (British) | Oil on canvas | The Jules Bache Collection, 1949 (49.7.57)1044973 A Royal Hand | New Kingdom, Dynasty 18, reign of Akhenaten, ca. 1349–1336 b.c. | Egyptian | Limestone, traces of paint | Gift of Norbert Schimmel, 1985 (1985.328.1)12781024 Hand Hacha | 4th–7th century | Mexico, Veracruz | Stone | The Michael C. Rockefeller Memorial Collection, Bequest of Nelson A.
Tipping Etiquette Around the World | MintLife Blog | Personal Finance News... - StumbleUpon. One of the biggest riddles of global travel isn't which airline to fly, where to stay or even which restaurants to dine in — plenty of travel guides and websites are eager to offer up advice and pricing options on that. But how do you figure out, once at your destination, where and how much to tip? Just as customs and cultures vary in each country, so do tipping habits and expectations. In this infographic, we give you the basics on tipping etiquette, country by country, as well as a detailed guide on how much you're expected to tip for various services here in the United States.
The secret world of Disneyland. Disneyland may look like a straightforward theme park. But there's a secret world hidden behind the balloons, castles and cotton candy - a place where wild cats roam the park at midnight, Mickey Mouse hides in the wallpaper, and movie stars sip martinis behind closed doors. Feline security It's not easy keeping the grounds of Disneyland utterly spotless, as well as free of unwanted pests. Every night after closing time, 200 feral cats are released into the park to help keep the rodent population under control. Though Disney doesn't comment on the matter, rumour has it that the feline taskforce dates back to 1957, when renovations to Sleeping Beauty Castle revealed a colony of more than 100 stray cats.
Lots of Jokes - Did You Know? Q. Why do men's clothes have buttons on the right while women's clothes have buttons on the left? A. When buttons were invented, they were very expensive and worn primarily by the rich. Since most people are right-handed, it is easier to push buttons on the right through holes on the left.
---