Jquery Plugins
Heap Shot. List.js - Examples of how to use the script. 14 Most Popular jQuery Plugins of February 2013. Here, we will be rounding up some of the top jQuery plugins of February 2013, for you to use on your web development work. 1.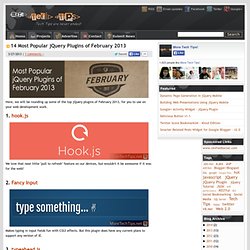 Hook.js We love that neat little "pull to refresh" feature on our devices, but wouldn't it be awesome if it was for the web? jQuery Form Plugin. The following code controls the HTML form beneath it.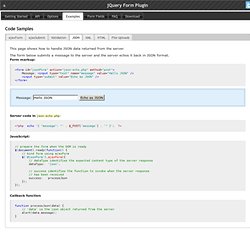 It uses ajaxForm to bind the form and demonstrates how to use pre- and post-submit callbacks. AJAX response will replace this content. The following code controls the HTML form beneath it. It uses ajaxSubmit to submit the form. This page gives several examples of how form data can be validated before it is sent to the server. Mini Help System with jQuery. Martin Angelov In this tutorial, we are going to create a mini help system with jQuery.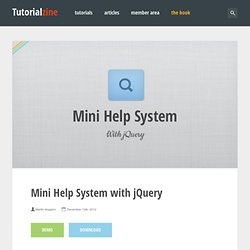 This will be a small widget which will display help text or a guide to users of your web application. The widget content is going to be searchable in real time, and all matching terms will be highlighted. The Idea. jQuery UI DatePicker: Disable Specified Days. One project I'm currently working on requires jQuery.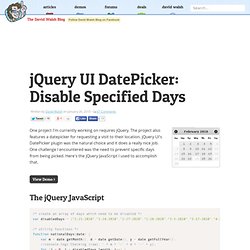 The project also features a datepicker for requesting a visit to their location. jQuery UI's DatePicker plugin was the natural choice and it does a really nice job. One challenge I encountered was the need to prevent specific days from being picked. Calendar - Page 5. It is difficult to find a well-developed calendar component for our web applications.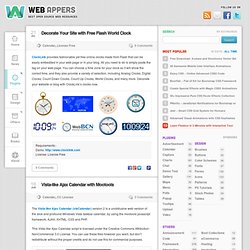 NoGray has developed a free and highly customizable Javascript calendar component for web developers like us. The look and feel of the calendar can be changed easily using CSS. You can have more than one calendar on any page, create any number of months per calendar. 50 Fundamental jQuery Controls, Components and Plugins. Every seasoned developer has one and every young and upcoming developer should be thinking of building one – a good and concise collection of UI controls, components and plugins that you can always rely on in times of need.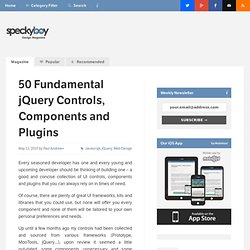 Of course, there are plenty of great UI frameworks, kits and libraries that you could use, but none will offer you every component and none of them will be tailored to your own personal preferences and needs. Up until a few months ago my controls had been collected and sourced from various frameworks (Prototype, MooTools, jQuery…), upon review it seemed a little out-dated, some components unnecessary and some controls desperately needed updated. It seemed logical to give the collection a fresh outlook and a uniformity under one framework – I chose jQuery. (I have held on to a few controls that have not been built with jQuery, but for the sake of this post I have omitted them). So, here are my 50 Fundamental jQuery Controls and Rich UI Components… 20+ Demos Showing Advanced jQuery Effects. Just a short while ago, Flash was one of the primary technologies used by web designers to add interactivity to a website.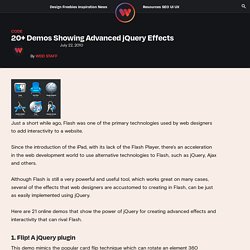 Since the introduction of the iPad, with its lack of the Flash Player, there's an acceleration in the web development world to use alternative technologies to Flash, such as jQuery, Ajax and others. Although Flash is still a very powerful and useful tool, which works great on many cases, several of the effects that web designers are accustomed to creating in Flash, can be just as easily implemented using jQuery.
Here are 21 online demos that show the power of jQuery for creating advanced effects and interactivity that can rival Flash. 45+ Fresh Out of the oven jQuery Plugins. Mar 05 2008 Two month ago we've presented the 50 favorite jQuery plugins many developers use and we promised that the second version will be coming soon.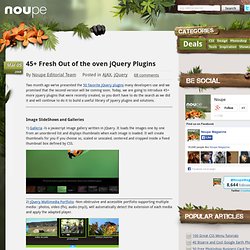 Today, we are going to introduce 45+ more jquery plugins that were recently created, so you don't have to do the search as we did it and will continue to do it to build a useful library of jquery plugins and solutions. Image SlideShows and Galleries 1) Galleria -Is a javascript image gallery written in jQuery. It loads the images one by one from an unordered list and displays thumbnails when each image is loaded. 55 jQuery Form Plugins To Download And Use. Default forms are boring and that's for certain.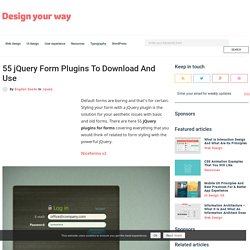 Styling your form with a jQuery plugin is the solution for your aesthetic issues with basic and old forms. There are here 55 covering everything that you would think of related to form styling with the powerful jQuery. 50 Fresh jQuery Tutorials 2011. Today, we are going to introduce 50 Fresh jQuery Tutorials of 2011 that were recently created, so you don't have to do the search as we did it and will continue to do it to build a useful library of jquery plugins and solutions. 1.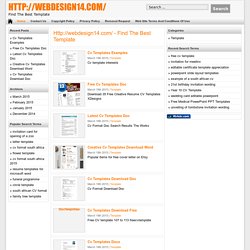 Parallax Slider with jQuery. 10 Very Useful Ajax Plugins for your Websites. 10 Ajax plugins collection This is collection of most interesting fresh Ajax plugins. Here are plugins and for working with images, and for paypal, and for pagination, and for navigation and another. iNettuts - Welcome! Lorem ipsum dolor sit amet, consectetuer adipiscing elit. Aliquam magna sem, fringilla in, commodo a, rutrum ut, massa. Donec id nibh eu dui auctor tempor. Morbi laoreet eleifend dolor. Suspendisse pede odio, accumsan vitae, auctor non, suscipit at, ipsum. Cras varius sapien vel lectus. Ajax Fancy Captcha – jQuery Plugin for Drag and Drop Captcha's security | webAppszone. Home » Ajax , Extras , Javascript , Licenses Ajax Fancy Captcha is a jQuery plugin that helps you protect your web pages from bots and spammers .
This is a new, intuitive way of completing "verify humanity" tasks. In order to do that you are asked to drag and drop specified item into a circle . Captcha's security level is medium, with the emphasis on nice looking and user friendly qualities while still offering reasonable protection from unwanted "guests". 40 Useful jQuery Techniques and Plugins - Smashing Coding. Advertisement Over the last year, Smashing Magazine has evolved. We've been publishing fewer lists and more in-depth articles about design and Web development. We have invited professionals and high-profile developers to write for us. 17 jQuery Plugins for Easy and Efficient Reordering and Filtering Page Elements. By using jQuery filter and jQuery sort plugins you will be able to have a great control over the order, placement and organization of your page / or table elements.
Further some of these plugins include drag-able controls making it possible to offer a more dynamic and user friendly design. Sorting and filtering is very useful if you have large datasets such as table views, however you can also use them for managing list views e.g. for a portfolio page. Impress Your Friends With These 20 jQuery Tutorials.
50+ Amazing Jquery Examples- Part1. Simple Modal - Another window modal. 37 More Shocking jQuery Plugins. jQuery plugin: Tablesorter 2.0.
---