Link Value Factors
Link Value Factors: How to Pick the Best Link Sources. All Links are Not Created Equal: 10 Illustrations on Search Engines' Valuation of Links. In 1997, Google's founders created an algorithmic method to determine importance and popularity based on several key principles: Links on the web can be interpreted as votes that are cast by the source for the target All votes are, initially, considered equal Over the course of executing the algorithm on a link graph, pages which receive more votes become more important More important pages cast more important votes The votes a page can cast are a function of that page's importance, divided by the number of votes/links it casts That algorithm, of course, was PageRank, and it changed the course of web search, providing tremendous value to Google's early efforts around quality and relevancy in results.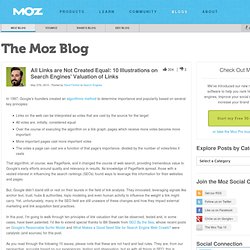 As knowledge of PageRank spread, those with a vested interest in influencing the search rankings (SEOs) found ways to leverage this information for their websites and pages. But, Google didn't stand still or rest on their laurels in the field of link analysis. Link Value Factors | Wiep. Link Value Factors Explained In the style of SEOmoz' Search Engine Ranking Factors, this page includes the opinions of 17 well respected, international SEO and Link Building professionals on nearly 40 factors that possibly influence the value of a link.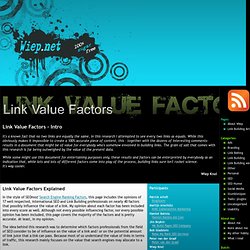 My opinion about each factor has been included into every score as well. Although not every possible influencing factor, nor every possible opinion has been included, this page covers the majority of the factors and is pretty accurate. At least, in my opinion.
---