Seesmic funding
Events are complex. We make automating the complex simple. etouches is simply complex. This isn't a misnomer. We aren't being cute. We've been told by technology firms that events should only have 5 flavors, that you can only ask so many questions, that you should choose from a template.
Video Library - Mozilla Firefox
I closed the initial funding of Seesmic in September 2007. The main investment came from Atomico's Niklas Zennstrom and Janus Friis (they invested $5.5 million on the $6 million). Talking to bloggers all the time, I have not been very good at keeping the secret as Om Malik was the first to talk about it on October 8, 2007.
Loic Le Meur Blog: How I started Seesmic and raised $6 million -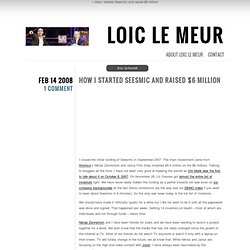 seesmic Company Profile