Seesmic funding
Video Library - Mozilla Firefox. Events are complex.
We make automating the complex simple. etouches is simply complex. This isn't a misnomer. We aren't being cute. We've been told by technology firms that events should only have 5 flavors, that you can only ask so many questions, that you should choose from a template. Loic Le Meur Blog: How I started Seesmic and raised $6 million - I closed the initial funding of Seesmic in September 2007.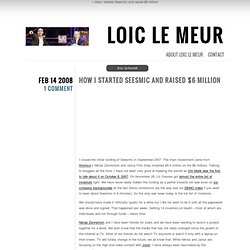 The main investment came from Atomico's Niklas Zennstrom and Janus Friis (they invested $5.5 million on the $6 million). Talking to bloggers all the time, I have not been very good at keeping the secret as Om Malik was the first to talk about it on October 8, 2007. Seesmic Company Profile. Seesmic is a powerful suite of social media management and collaboration tools that provide businesses and individuals with everything they need to build and manage their brands online.
With applications on every platform, including mobile devices, and a marketplace of over 80 third-party plugins, Seesmic is the most comprehensive solution on the market. Seesmic is headquartered in San Francisco and was founded by French entrepreneur Loic Le Meur.
---