PE blogs & news
PE Beat WSJ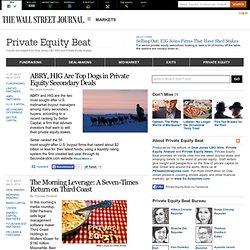 Associated Press Despite challenging investment environments in many emerging markets these days, limited partners are still bullish about Africa, with 85% of global LPs polled in a survey by the African Private Equity and Venture Capital Association saying they expect to increase their exposure to African private equity over the next two years. AVCA, which polled 48 LPs collectively representing more than $150 billion in global private equity assets under management, said 70% expect returns from Africa to outperform other emerging markets, with nearly a quarter believing African private investments to have 5% or more return premium.
Hedge Fund Advertising Off to a Slow Start, Survey Finds Only a fraction of hedge funds and private equity firms have even registered under a new statute that gives them the ability to broadly solicit capital. Read more… TPG and Others Said to Agree to Invest in Airbnb Investors have reached an agreement in principle to invest in Airbnb, valuing the site at about $10 billion, a person briefed on the matter said on Friday. Read more…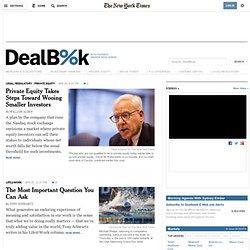 Private Equity/Entrepreneurship
Global Private Equity News and Research: buyout and venture capi
17 Apr 2014 EnCap Flatrock hits $2bn mark for latets Midstream fundp Energy-focused private equity firm EnCap Flatrock is currently in the market for its third Midstream, which has already exceeded the size of its previous vehicle, AltAssets has learned. Read full story Abraaj sweet enough on Moroccan chocolate maker Kool Food to buy business Global emerging markets investment giant The Abraaj Group has bought Moroccan chocolate confectionary maker Kool Food.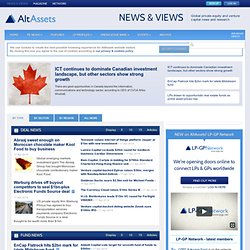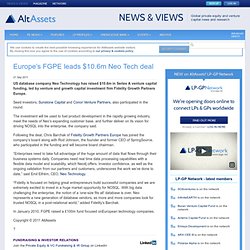 Europe
US database company Neo Technology has raised $10.6m in Series A venture capital funding, led by venture and growth capital investment firm Fidelity Growth Partners Europe. Seed investors, Sunstone Capital and Conor Venture Partners, also participated in the round. The investment will be used to fuel product development in the rapidly growing industry, meet the needs of Neo's expanding customer base, and further deliver on its vision for driving NOSQL into the enterprise, the company said. Following the deal, Chris Barchak of Fidelity Growth Partners Europe has joined the company's board along with Rod Johnson, the founder and former CEO of SpringSource, who participated in the funding and will become board chairman. "Enterprises need to take full advantage of the huge amount of data that flows through their business systems daily.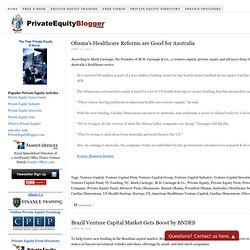 According to Mark Carnegie, the Founder of M.H. Carnegie & Co., a venture capital, private equity and advisory firm, Obamacare is a great thing for Australia's healthcare sector. He's invested $6 million as part of a $20 million funding round for the Seattle-based medical device maker Cardiac Dimensions, according to the AFR.The Obamacare reforms have made it hard for a lot of US health start-ups to secure funding, but this means they can bring their innovations here.
Private Equity Blogger.com