PE blogs & news
PE Beat WSJ. Associated Press Despite challenging investment environments in many emerging markets these days, limited partners are still bullish about Africa, with 85% of global LPs polled in a survey by the African Private Equity and Venture Capital Association saying they expect to increase their exposure to African private equity over the next two years.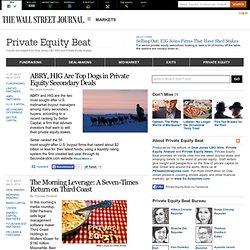 AVCA, which polled 48 LPs collectively representing more than $150 billion in global private equity assets under management, said 70% expect returns from Africa to outperform other emerging markets, with nearly a quarter believing African private investments to have 5% or more return premium. Mergers, Acquisitions, Venture Capital, Hedge Funds - DealBook B. PeHUB. Private Equity/Entrepreneurship. Global Private Equity News and Research: buyout and venture capi. Europe. US database company Neo Technology has raised $10.6m in Series A venture capital funding, led by venture and growth capital investment firm Fidelity Growth Partners Europe.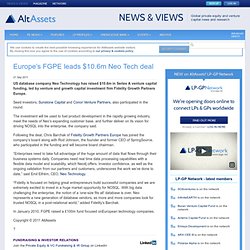 Seed investors, Sunstone Capital and Conor Venture Partners, also participated in the round. The investment will be used to fuel product development in the rapidly growing industry, meet the needs of Neo's expanding customer base, and further deliver on its vision for driving NOSQL into the enterprise, the company said. Following the deal, Chris Barchak of Fidelity Growth Partners Europe has joined the company's board along with Rod Johnson, the founder and former CEO of SpringSource, who participated in the funding and will become board chairman. "Enterprises need to take full advantage of the huge amount of data that flows through their business systems daily. Private Equity Blogger.com. A Private Equity Blog.
---