Art
30+ Creative and Stylish Rings. Ring is one of the most ancient jewelry and one of the way to express yourself.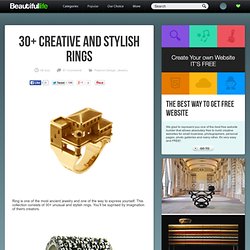 This collection consists of 30+ unusual and stylish rings. You'll be suprised by imagination of theirs creators. This golden ring has a diamond. But only the owner would know about it. Derek Gores. We often forget that WE ARE NATURE. Nature is not something separate from us. So when we say that we have lost our connection to nature. We've lost our connection to ourselves. Paper Art - 100 Extraordinary Examples of Paper Art.
Paper art can be traced back to Japan, where it originated over a thousand years ago.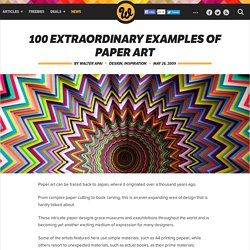 From complex paper cutting to book carving, this is an ever expanding area of design that is hardly talked about. These intricate paper designs grace museums and exauhibitions throughout the world and is becoming yet another exciting medium of expression for many designers. Some of the artists featured here use simple materials, such as A4 printing papeel, while others resort to unexpected materials, such as actual books, as their prime materials. In this article, we'll take a look at 13 remarkable artists and showcase their truly amazing pieces of paper art. Peter Callesen. Stencilrevolution.com. Odosketch. Guerra Creativa | Jacek Yerka: surrealismo y fantasía.
Paint Moss Graffiti - Step-by-Step Guides for Offbeat DIY Projects.
Thought
IFX___Strike_A_Pose_by_WarrenLouw.jpg (JPEG Image, 940x7198 pixels) Top 10 examples of brilliant shadow art (Pic) | Daily Dawdle - Awesomely funny photos and videos everyday. Banksy.
---