Code & visuals
Datavisualization. Sennep Seeds. Code & Design. PRETTY COLORS. GENERATIVE GESTALTUNG. Computational design.
CTM.08­ – Unpredictable Festival for Adventurous Music and Related Visual Arts Generator.x 2.0: Beyond the Screen 24 Jan -­ 2 Feb 2008, Ballhaus Naunynstrasse / [DAM] Berlin Workshop / Exhibition / Performance Generator.x in collaboration with Club Transmediale and [DAM] presents Generator.x 2.0: Beyond the screen, a workshop and exhibition about digital fabrication and generative systems.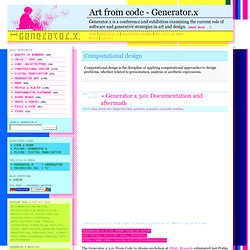 Digital fabrication (also known as "fabbing") represents the next step in the digital revolution. After years of virtualization, with machines and atoms being replaced by bits and software, we are coming full circle. HTML5 Presentation.
---