Personel
From The Ground Up by Sherif Elhage Check out the portfolio of Sherif Elhage , a talented photographer based in France. His influences include Otto Steinert, Edward Weston and Harry Callahan. Sanne de Wilde How my love for portrait photography grows each time I see images as such. Click the link to view more from Belgian artist Sanne de Wilde .
Photography - Sweet Station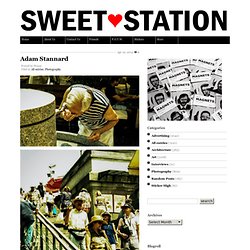 Clase política vs Clase ciudadana | Contra-Escritura
Beaujean Project
Jack Daniel's Recipes | Jack Daniel's Tennessee Whiskey
www.analitica.com/va/sociedad/documentos/1292162.pdf
News Sign up for the 5th Worldwide Instameet! New versions of Instagram are available now! Download it on your Android or Apple device We also released an updated photo page that allows you to follow, comment and like from your web browser! Take a look: http://instagr.am/p/MbwrDDhQSY/ Get Involved
The Week on Instagram | 33
2005. Pájaros La imagen de la tercera edición del FICM festejó la presencia de una nueva sede: El Teatro Emperador Caltzontin, en Pátzcuaro. El documental ¡Hasta el último trago, corazón! (2005), de Beto Gómez, inauguró el espacio de proyección en 2005 y se convirtió, desde entonces, en una cita obligada para cineastas y público nacional e internacional. El cartel, dibujado a mano por Rodrigo Toledo, tiene de fondo la catedral de Morelia donde pájaros habitantes del lago de Pátzcuaro vuelan alrededor de una cámara de cine.
Historias de un Festival » Diez años, diez carteles | Festival Internacional de Cine de Morelia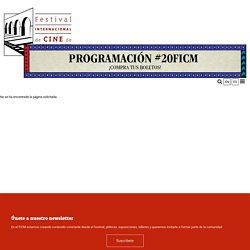 "Al sur de la frontera" (2010) de Oliver Stone (subtitulada) on Vimeo
About Yummly Yummly is building the digital kitchen platform and mapping the food genome...making life better/easier/more fun for everyone who cooks. Here's why you should join Yummly's food/tech revolution: Yummly has built something that people already use and love, and is on the path to building something great. Yummly is unlocking the power of food, data & technology and solving problems that were impossible to solve before Yummly came along. Yummly has a great base to work from - we are already the fastest growing food site in the world with over 4M monthly unique visitors and 2 million Facebook subscribers in just 1 year.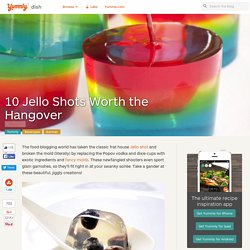 Reseñas de usuarios Malísimo por Adrian Gonzalez Torres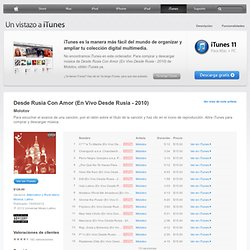 Música - Desde Rusia Con Amor (En Vivo Desde Rusia - 2010) de Molotov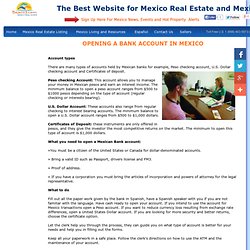 Account types There are many types of accounts held by Mexican banks for example, Peso checking account, U.S. Dollar checking account and Certificates of deposit.
OPENING A BANK ACCOUNT IN MEXICO - Baja123.com Team
Volkswagen GTI Otra Versión 2009 - $ 225.000 - DeMotores.com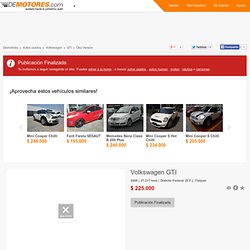 Manual Asistida Usado Negro Hatchback 2 Agencia Sí Visitas: 430 | Publicado: 13/04/12 | Aviso: #2117022 Equipamiento:
GIMME THE POWER - UNA PELICULA DE OLALLO RUBIO
Bob Moog Google Doodle Demonstration: How to use it!
Video de Media Noche: Stairs to no end
Mi primer gran proyecto
Profile Hugo