Wage87
Joel
Lupe Fiasco | Official Website: Photos, Blog, Videos, Interactive and more. - LupeFiasco.com. Pandora Radio - Listen to Free Internet Radio, Find New Music. Facebook. Wikipedia. University of Chicago. The University of Chicago (U of C, UChicago, or simply Chicago) is a private research university in Chicago, Illinois, United States.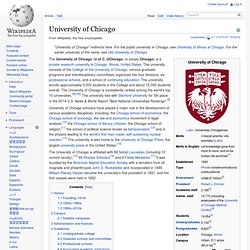 The university consists of the College of the University of Chicago, various graduate programs and interdisciplinary committees organized into four divisions, six professional schools, and a school of continuing education. The university enrolls approximately 5,000 students in the College and about 15,000 students overall.
Hyde Park, Chicago. Hyde Park is a neighborhood and community area on the South Side of Chicago.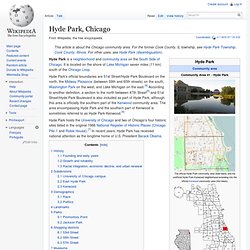 It is located on the shore of Lake Michigan seven miles (11 km) south of the Chicago Loop. Hyde Park hosts the University of Chicago and two of Chicago's four historic sites listed in the original 1966 National Register of Historic Places (Chicago Pile-1 and Robie House).[7] In recent years, Hyde Park has received national attention as the longtime home of U.S. Robie House. Interior (1911) History[edit] Wright designed the Robie House in his studio in Oak Park, Illinois between 1908 and 1909.[5] The design precedent for the Robie House was the Ferdinand F.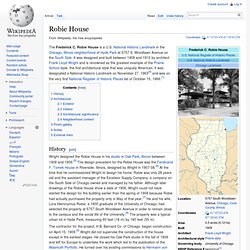 Tomek House in Riverside, Illinois, designed by Wright in 1907-08.[6] At the time that he commissioned Wright to design his home, Robie was only 28 years old and the assistant manager of the Excelsior Supply Company, a company on the South Side of Chicago owned and managed by his father. Suzuki method. Background[edit] I want to make good citizens.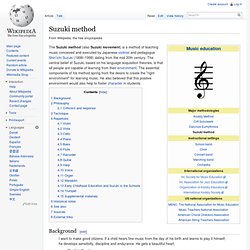 If a child hears fine music from the day of his birth and learns to play it himself, he develops sensitivity, discipline and endurance. He gets a beautiful heart. —Shin'ichi Suzuki Philosophy[edit] Russell Brand. Russell Edward Brand[5] (born 4 June 1975)[6] is an English comedian, actor, radio host, and author.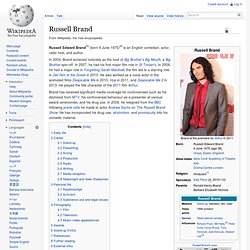 Brand has received significant media coverage for controversies such as his dismissal from MTV, his controversial behaviour as a presenter at various award ceremonies, and his drug use. In 2008, he resigned from the BBC following prank calls he made to actor Andrew Sachs on The Russell Brand Show. He has incorporated his drug use, alcoholism, and promiscuity into his comedic material. Early life Brand says he had a "strange relationship" with his father, whom he saw sporadically and who took him to visit prostitutes during a trip to the Far East.[10]
Katy Perry. Life and career 1984–98: Early life and career beginnings She was also incorporated into her parents' ministry and sang in churches between the ages of nine and sixteen.[13][14] She grew up listening primarily to gospel music,[15] as her parents discouraged her, David, and Angela from listening to too much "secular music".[14] As a child, some of the only secular artists she was allowed to listen to were Ella Fitzgerald and Billie Holiday, as well as the music of Édith Piaf due to her mother being able to speak French.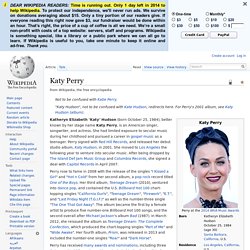 Teenage Dream (Katy Perry album) Upon its release, Teenage Dream received generally mixed reviews from music critics, who complimented its production and theme while denouncing the lyrical content.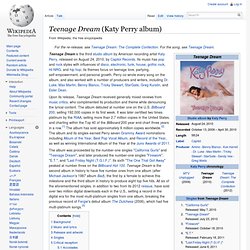 The album debuted at number one on the U.S. Billboard 200, selling 192,000 copies in its first week. It was later certified two times platinum by the RIAA; selling more than 2.7 million copies in the United States, and charting within the Top 40 of the Billboard 200 year end chart three years in a row.[1] The album has sold approximately 6 million copies worldwide.[2] The album and its singles earned Perry seven Grammy Award nominations including Album of the Year, Best Pop Vocal Album, and Record of the Year, as well as winning International Album of the Year at the Juno Awards of 2011. Teenage Dream (Katy Perry song) Musically, "Teenage Dream" is a mid-tempo pop song with a retro sound.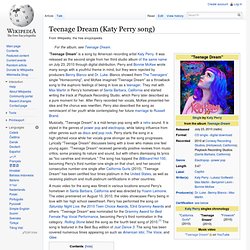 It is styled in the genres of power pop and electropop, while taking influence from other genres such as disco and pop rock. Perry starts the song in a high-pitched voice while her vocals grow stronger as the song progresses. Lyrically "Teenage Dream" discusses being with a lover who makes one feel young again. "Teenage Dream" received generally positive reviews from music critics, some praising its nature and sound, but with others dismissing its lyrics as "too carefree and immature.
" The song has topped the Billboard Hot 100, becoming Perry's third number-one single on that chart, and her second consecutive number-one single after California Gurls (2010). Despicable Me. The film stars the voice of Steve Carell as Gru, a super-villain who adopts three girls (voiced by Miranda Cosgrove, Dana Gaier, and Elsie Fisher) from an orphanage; and the voice of Jason Segel as Vector, a rival of Gru who steals the Great Pyramid of Giza.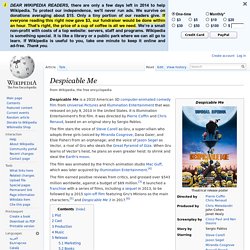 When Gru learns of Vector's heist, he plans an even greater heist: to shrink and steal the Earth's moon. It was entirely animated by the French animation studio Mac Guff, which was later acquired by Illumination Entertainment.[2] Plot[edit] Gru, a supervillain, has his pride injured when an unknown super-villain steals the Great Pyramid of Giza, an action that is described by his colleague Dr.
Nefario as "making all other villains look lame. " Voyager 2. Voyager 2 is a 722 kg (1,592 lb) space probe launched by NASA on August 20, 1977 to study the outer Solar System and eventually interstellar space.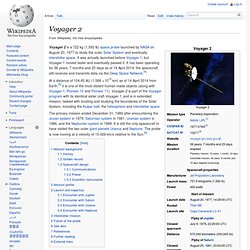 It was actually launched before Voyager 1, but Voyager 1 moved faster and eventually passed it. It has been operating for 36 years, 7 months and 25 days as of 14 April 2014; the spacecraft still receives and transmits data via the Deep Space Network.[4] At a distance of 104.65 AU (1.566×1010 km) as of 14 April 2014 from Earth,[5] it is one of the most distant human made objects (along with Voyager 1, Pioneer 10 and Pioneer 11). Voyager 2 is part of the Voyager program with its identical sister craft Voyager 1, and is in extended mission, tasked with locating and studying the boundaries of the Solar System, including the Kuiper belt, the heliosphere and interstellar space.
Voyager Golden Record. Cover of the Voyager Golden Record The Voyager Golden Records are phonograph records which were included aboard both Voyager spacecrafts, which were launched in 1977. They contain sounds and images selected to portray the diversity of life and culture on Earth, and are intended for any intelligent extraterrestrial life form, or for future humans, who may find them. The Voyager spacecrafts are not heading towards any particular star, but Voyager 1 will be within 1.6 light-years of the star Gliese 445, currently in the constellation Camelopardalis, in about 40,000 years.[1]
Solar System. Discovery and exploration Andreas Cellarius's illustration of the Copernican system, from the Harmonia Macrocosmica (1660) For many thousands of years, humanity, with a few notable exceptions, did not recognize the existence of the Solar System. People believed Earth to be stationary at the centre of the universe and categorically different from the divine or ethereal objects that moved through the sky. Although the Greek philosopher Aristarchus of Samos had speculated on a heliocentric reordering of the cosmos,[11] Nicolaus Copernicus was the first to develop a mathematically predictive heliocentric system.[12] His 17th-century successors, Galileo Galilei, Johannes Kepler and Isaac Newton, developed an understanding of physics that led to the gradual acceptance of the idea that Earth moves around the Sun and that the planets are governed by the same physical laws that governed Earth.
DRUDGE REPORT 2010® Cracked.com - America's Only Humor & Video Site Since 1958. 6 Movie Plots That Could Have Been Solved In Minutes. Writing movies is hard. Especially when audiences stubbornly demand you entertain them for at least 90 minutes. This is why, in movie-land, characters are so often forced to drag problems out for an hour when, in reality, the situation could have been solved during the opening credits. Raiders of the Lost Ark. 5 Gaping Plot Holes Hollywood Knows You Won't Notice. There are certain types of bullshit we're less likely to call a movie on, and Hollywood has been using these logical blind spots to trick us, surprise us and generally make their jobs a whole lot easier. We're not sure which is worse: the fact that Hollywood thinks we're stupid, or the fact that these tricks so often work.
Cracked has no bullshit for you, just this trailer for our new Star Wars: Adventures in Jedi School mini-series. 8 Classic Movies That Got Away With Gaping Plot Holes. People hate plot holes in movies. At least, that's what they'll tell you. But sometimes, if a movie is awesome enough, people will overlook even the most retarded gaps in reason and logic. The 6 Most Depressing Happy Endings in Movie History. 7 Scientific Reasons a Zombie Outbreak Would Fail (Quickly) 5 UFO Sightings That Even Non-Crazy People Find Creepy. What 23 Famous Characters Looked Like as Kids. 30 Error Messages You Never Want to See. Things You Never Noticed in Famous Pictures. 5 Reasons Immortality Would be Worse than Death. 5 Bizarre Ways Your Siblings Made You Who You Are. 5 Species That Seem to be Trying to Take over the Earth. 5 Diabolical Animals That Out-Witted Humans. 15 Images You Won't Believe Aren't Photoshopped.
Pearltrees videos
Help. YouTube - Ither87's YouTube. Kid Cudi vs. Crookers - Day 'n' Night. David Guetta ft Kid Cudi - Memories Official Video. Steve Hughes on Michael McIntyre's Comedy Roadshow - www.stevehughes.net.au. RAW Comedy Club - Steve Hughes. 3OH!3 - MY FIRST KISS feat. Ke$ha. Gervais + Elmo = Hilarity on 'Sesame Street' Ricky Gervais takes his Emmy back. Ars Technica. Opposable Thumbs - Gaming News. Home - Windows Live. Webcomics.
---