Tools
Tweepi v2.0 :: a geekier, faster way to bulk add quality followers. Dlvr.it : feed your blog to twitter and facebook. 22 Social Media Marketing Management Software & Services Reviewed. With every online marketing channel and discipline, there must be tools to make the task of marketing more efficient and effective.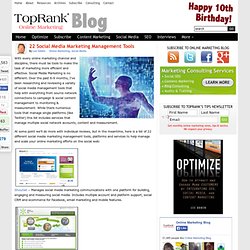 Social Media Marketing is no different. Over the past 6-9 months, I've been researching and reviewing a variety of social media management tools that help with everything from source network connections to campaign & social content management to monitoring & measurement. While there numerous tools that manage single platforms (like Twitter) this list includes services that manage multiple social network accounts, content and measurement.
At some point we'll do more with individual reviews, but in the meantime, here is a list of 22 different social media marketing management tools, platforms and services to help manage and scale your online marketing efforts on the social web: Shoutlet – Manages social media marketing communications with one platform for building, engaging and measuring social media. Social Commerce Technologies | Product Reviews & Customer Reviews Software | Bazaarvoice. Pluck by Demand Media | Integrated Social Media Solutions.
---