Research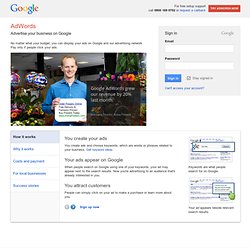 Keywords are what people search for on Google. Your ad appears beside relevant search results. You create your ads
Google AdWords - Online Advertising by Google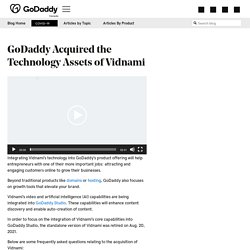 Stop Struggling To Get Traffic the HARD WAY… Enter Your Details to Receive: Your registration details for Traffic-Hunting Software, "Market Samurai" (Software, Valued at $149) 4 Brief "How-To" Videos, Sharing How You Can Get More Visitors, with Less Effort We value your privacy, and will never misuse the private information that you entrust to us.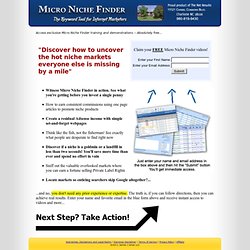 Access exclusive Micro Niche Finder training and demonstrations -- Absolutely free... Witness Micro Niche Finder in action. See what you're getting before you invest a single penny How to earn consistent commissions using one page articles to promote niche products Create a residual Adsense income with simple set-and-forget webpages Think like the fish, not the fisherman!
Micro Niche Finder - The Keyword Tool for Internet Marketers
AdWords: Keyword Tool
Search for new keyword or ad group ideas Keyword Planner is like a workshop for building new Search Network campaigns or expanding existing ones. You can search for keyword and ad group ideas, get historical statistics, see how a list of keywords might perform, and even create a new keyword list by multiplying several lists of keywords together.