CSS
ntent with Style - A CSS Framework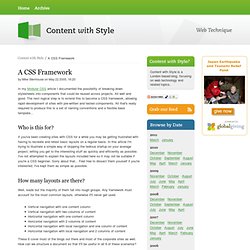 In my Modular CSS article I documented the possibility of breaking down stylesheets into components that could be reused across projects. All well and good. The next logical step is to extend this to become a CSS framework, allowing rapid development of sites with pre-written and tested components. All that's really required to produce this is a set of naming conventions and a flexible base template...
SenCSs - the sensible standards CSS baseline
Video: The YUI CSS Foundation In this 42-minute tech talk from October 2007, YUI senior engineer and CSS component author Nate Koechley provides a holistic introduction to this and all of the YUI CSS components. [ iPod/iPhone compatible download also available .] Getting Started We use and recommend this !