CSS

Galleria has been serving top-quality image galleries to millions of web sites during the last years. We coulnd't be happier with all the positive response we recieved. Now, we are about to launch the next generation gallery service that makes it even easier for anyone to create, administrate and publish beautiful image galleries on any web site. We call it Galleria Display. We are now accepting a limited number of beta testers for our new service. In order to join us and get a free account, simply enter your email at galleriadisplay.com and we'll put you on our list.
ntent with Style - A CSS Framework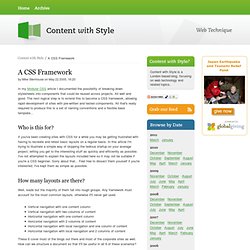 In my Modular CSS article I documented the possibility of breaking down stylesheets into components that could be reused across projects. All well and good. The next logical step is to extend this to become a CSS framework, allowing rapid development of sites with pre-written and tested components. All that's really required to produce this is a set of naming conventions and a flexible base template...
SenCSs stands for Sensible Standards CSS baseline, (pronounced "sense"). It supplies sensible styling for all repetitive parts of your CSS, and doesn't force a lay-out system on you. This allows you to focus on actually developing your website's style. Documentation The example file shows all the functionality SenCSs offers. Donate :)
SenCSs - the sensible standards CSS baseline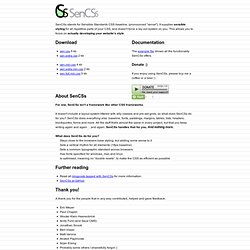 Blueprint is a CSS framework, which aims to cut down on your development time. It gives you a solid foundation to build your project on top of, with an easy-to-use grid, sensible typography, useful plugins, and even a stylesheet for printing. Download Now Latest version: 1.0.1 Last updated May 14, 2011 What does Blueprint have to offer? A CSS reset that eliminates the discrepancies across browsers.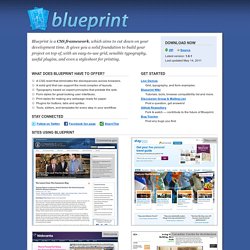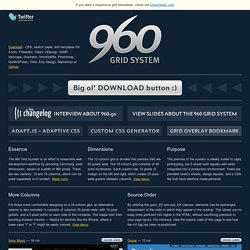 Download - CSS, sketch paper, and templates for: Acorn, Fireworks, Flash, InDesign, GIMP, Inkscape, Illustrator, OmniGraffle, Photoshop, QuarkXPress, Visio, Exp Design. Repository at GitHub. Essence The 960 Grid System is an effort to streamline web development workflow by providing commonly used dimensions, based on a width of 960 pixels. There are two variants: 12 and 16 columns, which can be used separately or in tandem.
A brief history When YAML was released in October 2005, it was conceived as a base for developing flexible layouts, with a strong emphasis on meeting the challenges that result from working with flexible (elastic, fluid) containers and varying units. This CSS framework has been continually improved and extended over the years, based on the feedback and needs of professional frontend developers. Its code base has proved to be stable under real-world conditions on thousands of websites.

What is an EM? Wikipedia puts it well: "An em is a unit of measurement in the field of typography, equal to the size of the current font." If your font-size is at 16 pixels, then 1em = 16px What is the text sizing difference between PX, EM, %, PT?