HOME
...InsPINation... / What a pretty way to store an extra roll! love it!!
Idea's / Genusis? I think so!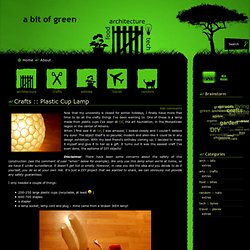 Now that my university is closed for winter holidays, I finally have more free time to do all the crafty things I've been wanting to. One of these is a lamp made from plastic cups I've seen at taf , the art foundation, in the Monastiraki region in the center of Athens. When I first saw it at taf , I was amazed; I looked closely and I couldn't believe my eyes! The object itself is so peculiar, modern and alien-like it could be in any design exhibition. With my best friend's birthday coming up, I decided to make it myself and give it to her as a gift. It turns out it was the easiest craft I've even done, the epitome of DIY objects!
Diy and Crafts / pin cushion mason jar.
Diy and Crafts / creative storage! via domesticease.com
Diy and Crafts / Letter Lighting: How to Make a Font Lantern | BlogHer
Diy and Crafts / 22812010_H0MUe6ZU_b.jpg (JPEG Image, 192x256 pixels)