Sicence
Saikat Biswas - The Projects
Johnny Lee demos Wii Remote hacks
Stephen Hawking
Making Stuff: Smaller PBS Airdate: January 26, 2011 DAVID POGUE: Imagine a world with buildings that can ride out earthquakes; bacteria that make gasoline; tiny devices that can repair individual cells, or even D.N.A.; gossamer threads, strong enough to hold up a bridge; or an elevator to the stars. These visions of the future are based in the discoveries of today, as a new science of materials emerges from the elemental building blocks of the universe, promising a future in which we can create virtually anything we want, atom by atom. I'm David Pogue, and I'm on a quest to discover how the world's smallest materials are changing our lives: swarms of nano-machines that combat cancer on the cellular level with bee venom;...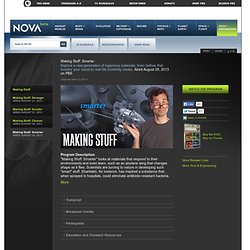 NOVA | Making Stuff: Series Overview
On Air | App | Online | Podcast | Download | Special Collections Listen LIVE online (Fridays 2-4 pm Eastern) Can't get Science Friday on the radio? Listen live online.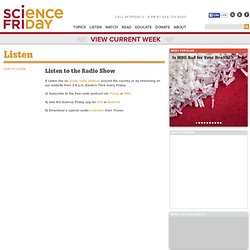 ScienceFriday.com
Dãy núi Ba Vì, nơi dân gian đã thêu dệt nên câu chuyện điển tích về tình yêu cao đẹp và cuộc chiến oai hùng của hai chàng Sơn tinh, Thuỷ tinh đã lưu danh kho tàng văn học dân gian Việt Nam và Ở độ cao trên 1000m cũng là câu chuyện về một loài thực vật rất kỳ lạ và quí hiếm trong danh lục các loài thực vật ở Việt Nam. Loài cây Bát giác liên Podophyllum tonkinense - loài cây thảo sống nhiều năm, cao 30 - 50cm, thân rễ thô to, mọc ngang. Thân thường mang một đến 2 lá, đính lá dạng ngù. Phiến lá rộng đến 30cm, có 4 - 9 thùy nông, thùy dạng tam giác rộng hoặc hình tròn dài dạng trứng, đỉnh nhọn sắc, mép lá có răng nhỏ.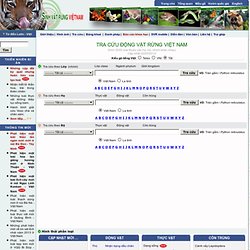 Welcome to Viet Nam Creatures Website
::Cay canh Viet Nam::
Diễn đàn Sinh vật rừng Việt Nam :: Xem chủ đề - Không biết cây này tên gi ?
HUMAN BEING images
chaos scope 3d fractal freeware for windows