Uk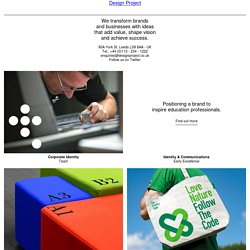 Design Project
Design Project have a history of creating distinctive visual communications that deliver outstanding results for clients in industry, the service sector, media and the arts. Across brand identity, print and digital media, our multi-disciplinary approach ensures that every project, regardless of scale or budget, results in a functional, effective and crafted solution that fulfils the communication objectives of the client.
A-Side Studio / Graphic design and illustration studio
~ THE GARDENS OF ST BENJAMIN ~
Departures® +44 0 29 2022 8724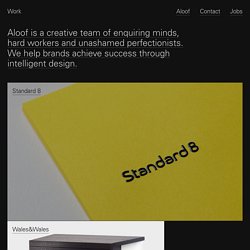 It's us and you, working together with one simple goal: to make your brand brilliant. We work fanatically, with insight, among ourselves and with our clients and suppliers. Branding consultants, we are strategic thinkers, investigators. We analyse and ask lots of questions. All this before we touch anything. It's a demanding process and you can expect to be challenged, exhilarated, surprised.
Branding and Design Consultancy - Aloof
TWIY
Amelia Roberts
S.Dallyn.