Plugin
Writing the history of single-page image galleries on the web, one could start like this: In the beginning, there was nothing. And the Developer said: "Let there be pop-ups!" And the Users saw that pop-ups were bad…
jQuery.popeye - an inline lightbox alternative | Christoph Schüß
Drop Shadow Examples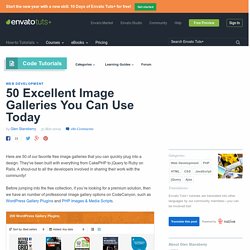 Here are 50 of our favorite free image galleries that you can quickly plug into a design. They've been built with everything from CakePHP to jQuery to Ruby on Rails. A shout-out to all the developers involved in sharing their work with the community! 1. Gallery 2 Gallery 2 has probably the biggest community and is one of the most used gallery scripts on the web.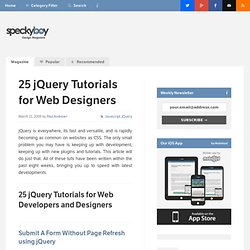 jQuery is everywhere, its fast and versatile, and is rapidly becoming as common on websites as CSS. The only small problem you may have is keeping up with development, keeping up with new plugins and tutorials. This article will do just that. All of these tuts have been written within the past eight weeks, bringing you up to speed with latest developments.
Mar 05 2008 Two month ago we've presented the 50 favorite jQuery plugins many developers use and we promised that the second version will be coming soon. Today, we are going to introduce 45+ more jquery plugins that were recently created, so you don't have to do the search as we did it and will continue to do it to build a useful library of jquery plugins and solutions.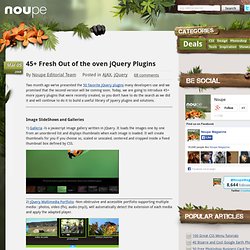 » 8 Fantastic jQuery Tutorials for Designers
Color Picker - jQuery plugin
Color Picker - jQuery plugin, un simple componente para seleccionar el color de la misma manera que sueles hacerlo en Adobe Photoshop. Sin duda vendrá muy bien para montarlo en alguna aplicación web en la cual trabajes. Ver demo - Mas info y descarga Color Picker - jQuery plugin Instalacion: Realizamos las llamadas correspondientes desde nuestro encebado, copiando y pegando el siguiente código dentro de nuestra etiqueta < head >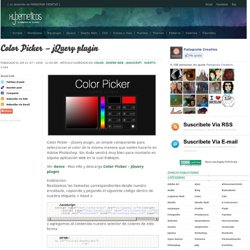 About Again another image gallery. Click on the images bellow to see it in action. Download spacegallery.zip (205 kb): jQuery, Javscript files, CSS files, images, examples and instructions.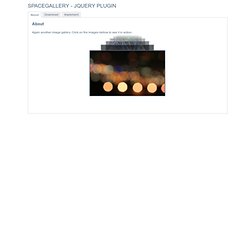 Spacegallery - jQuery plugin
Seek Attention, resalta un aparte de tu página con jQuery | aNie
27 ago aNieto2k hace 1503 días en: javascript , Programacion , webdev Hoy he descubierto Parallax , y he quedado impresionado de lo que visto Si has seguido el enlace de la imagen, habrás visto que es parallax. Si no lo has visto, te lo explico rápidamente.
Parallax, imagenes 3D con jQuery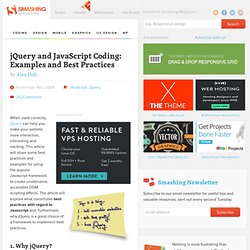 Advertisement When used correctly, jQuery can help you make your website more interactive, interesting and exciting. This article will share some best practices and examples for using the popular Javascript framework to create unobtrusive, accessible DOM scripting effects. The article will explore what constitutes best practices with regard to Javascript and, furthermore, why jQuery is a good choice of a framework to implement best practices.
jQuery and JavaScript Coding: Examples and Best Practices | How-
With the vast array of web development knowledge available on the Internet, there's certainly no shortage of cheat sheets to be found. However, finding a way to wrangle them all into one place isn't quite as easy. That's why we've compiled a list of some of the best cheat sheet collections out there. That's right: this is your newest cheat sheet for cheat sheeting your way to a better website. Client Side These cheat sheet lists cover information in CSS, HTML, and more.