Downloads
Retro
Sprixi, buscador de imágenes con licencia Creative Commons. El mundo de las licencias en internet es delicado, y si cualquier persona que redacte contenidos se ayude de imágenes para ilustrar textos, lo mejor es procurar que dichas imágenes tengan los permisos adecuados para poder estar en tu página web o blog.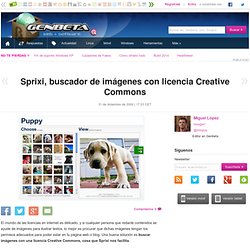 Una buena solución es buscar imágenes con una licencia Creative Commons, cosa que Sprixi nos facilita. Sprixi va directa al grano, ya que consta de un gran campo de texto para introducir nuestra búsqueda. Tras hacerlo, tenemos una agradable interfaz para poder seleccionar y usar la imagen Creative Commons como más nos guste. El servicio realiza búsquedas en Flickr (que también tiene su propio buscador para este tipo de imágenes), OpenClipart.org y en las imágenes propias que suben los usuarios en la web.
Netlabels.org - Free Music Culture Community. Lydio NetLabel. Nulogic Netlabel. n0theen 24/7 opensource audio / netaudio stream :: www.notheen.c. The best free games on the net: First Person Shooters (FPS) A First Person Shooter (FPS) game can be a little bit addicting, but it's a nice timekiller.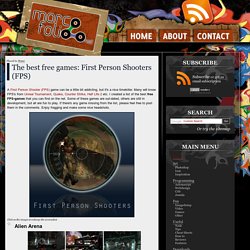 Many will know FPS's from Unreal Tournament, Quake, Counter Strike, Half Life 2 etc. I created a list of the best free FPS-games that you can find on the net. Some of these games are out-dated, others are still in development, but all are fun to play. If there's any game missing from the list, please feel free to post them in the comments. Enjoy fragging and make some nice headshots.
---