Land
Glass Beach (Fort Bragg, California)
Glass Beach Glass Beach is a beach in MacKerricher State Park near Fort Bragg, California that is abundant in sea glass created from years of dumping garbage into an area of coastline near the northern part of the town. [ edit ] History A small wave on the beach In the early 20th century, Fort Bragg residents threw their household garbage over cliffs owned by the Union Lumber Company onto what is now Glass Beach, discarding glass , appliances, and even vehicles. [ 1 ] Locals referred to it as "The Dumps." [ 2 ] Fires were lit to reduce the size of the trash pile. [ 2 ] The California State Water Resources Control Board and city leaders closed the area in 1967. [ 1 ] [ 2 ] Various cleanup programs were undertaken through the years to correct the damage.
Patience by jimmy hoffman
Double chain of twenty-six atolls… The Republic of Maldives, or simply the Maldives, is an island nation in the Indian Ocean. It consists of approximately 1,190 coral islands grouped in a double chain of 26 atolls, along the north-south direction, spread over roughly 90,000 square kilometers, making this one of the most disparate countries in the world. The atolls are composed of live coral reefs and sand bars, situated atop a submarine ridge 960 kilometers long that rises abruptly from the depths of the Indian Ocean and runs from north to south. Crystal clear waters, beautiful white sand beaches, swaying palm trees and fabulous dive sites – that's why the Maldives, is known for being one of the best tropical holiday destinations in the world. ...and no need to climb ;)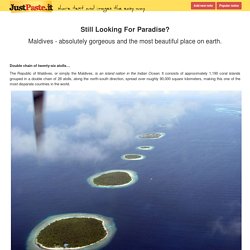 I am an illustrator, graphic artist and animation specialist from Munich/Germany. Most recently I was a Set and Texture Designer for the Tim Burton movie "9″. Prior to this I was working as a Layout Artist for Walt Disney Feature Animation for movies like "Mulan" and "Lilo & Stitch". Skills : Illustration – Animation Layout – Graphic Design – Set Design – Texture Design – Web Design – Digital Imaging – Photography Visit website
The stunning Plitvice Lakes National Park lies in the Lika region of Croatia. The park is surrounded by the mountains Plješevica, Mala Kapela, and Medveđak, which are part of the Dinaric Alps. The 16 blue-green Plitvice Lakes, which are separated by natural dams of travertine, are situated on the Plitvice plateau. Waterfalls connect the lakes, and the tallest waterfall is Veliki Slap at 70 meters (230 feet) tall. The Plitvice lakes area boasts a large variety of interesting and colorful flora and fauna. Visitors can enjoy walking and hiking the many pathways and trails, or exploring the lakes by boat.