SharePoint
Führende Full-Service Internet Agentur für Österreich, Schweiz,
Business Utilities, Mobile, & Cloud Computing
[SharePoint] Team Blog
CLUB SHAREPOINT FRANCE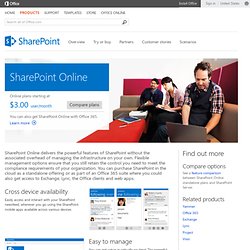 SharePoint Online delivers the powerful features of SharePoint without the associated overhead of managing the infrastructure on your own. Flexible management options ensure that you still retain the control you need to meet the compliance requirements of your organization. You can purchase SharePoint in the cloud as a standalone offering or as part of an Office 365 suite where you could also get access to Exchange, Lync, the Office clients and web apps. Cross device availability Easily access and interact with your SharePoint newsfeed, wherever you go using the SharePoint mobile apps available across various devices Easy to manage You can get setup in virtually no time!
SharePoint Online | Business Productivity Online Standard Suite
Home
EROL mon BLOG en Français (MVP SHAREPOINT)'s Blog - Windows Live
FitzBlog : Web Parts ⊃ Portlets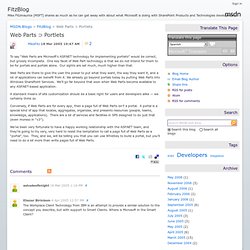 To say "Web Parts are Microsoft's ASP.NET technology for implementing portlets" would be correct, but grossly incomplete. One key facet of Web Part technology is that we do not intend for them to be for portals and portals alone. Our sights are set much, much higher than that. Web Parts are there to give the user the power to put what they want, the way they want it, and a lot of applications can benefit from it. We already go beyond portals today by putting Web Parts into Windows SharePoint Services.
[SharePoint] Club MOSS
SharePoint et la sécurité en développement : SPRoleAssignment, SPBasePermissions et leurs amis J'ai souvent cette question qui revient par mail, par twitter, par MSN et même dans le train (véridique, ne sortait jamais un bouquin MOSS dans le train, on ne sait jamais si on ne tombe pas sur un codeur en face de soi) : Comment personnaliser la sécurité sous SharePoint ? Bon, la question n'est point inintéressante mais un poil complexe : c'est un vaaaaste sujet vu la dimension de SharePoint Soit : les comptes de services les méthodes d'accés les ACL Les méthodes de connexion la sécurité aux objets L'impersonnation ... ...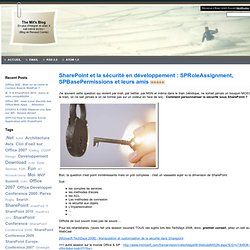 SharePoint et la sécurité en développement : SPRoleAssignment, S
Microsoft TechDays 2010, événement IT gratuit de l'année : Share
SP Rosas
<div class='noindex'>Vous tentez peut-être d'accéder à ce site à partir d'un navigateur sécurisé sur le serveur. Activez les scripts et rechargez la page.</div> Activer le mode plus accessible