Системы для обучения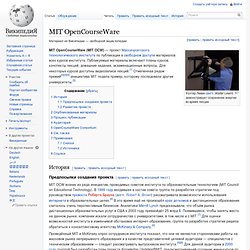 Уолтер Левин (англ.Walter Lewin) демонстрирует сохранение энергии во время лекции MIT OpenCourseWare (MIT OCW) — проект Массачусетского технологического института по публикации в свободном доступе материалов всех курсов института. Публикуемые материалы включают планы курсов, конспекты лекций, домашние задания, экзаменационные вопросы. Для некоторых курсов доступны видеозаписи лекций.[1] Отмеченная рядом премий[2][3][4] инициатива MIT подала пример, которому последовали другие университеты.[5] История[править | править исходный текст] Предпосылки создания проекта[править | править исходный текст]
MIT OpenCourseWare
Learn | Online Learning Tools for a Better Education Experience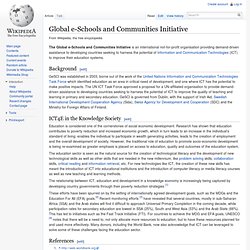 The Global e-Schools and Communities Initiative is an international not-for-profit organisation providing demand-driven assistance to developing countries seeking to harness the potential of Information and Communication Technologies (ICT) to improve their education systems.
Global e-Schools and Communities Initiative
ICT in Education
Main product page for Splashtop Whiteboard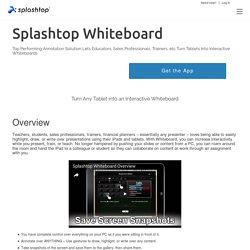 Quick look at Splashtop Whiteboard and how it could be used in a classroom.Education App ReviewsList of top 10 apps for iOS for K-6 learning. iPad, iPod and iPhone learning app reviews for standards based teaching and classroom use.
Ben Jackson is a writer and app developer living in Brooklyn, NY.