Системы для обучения
OCW Consortium. MIT OpenCourseWare. Уолтер Левин (англ.Walter Lewin) демонстрирует сохранение энергии во время лекции MIT OpenCourseWare (MIT OCW) — проект Массачусетского технологического института по публикации в свободном доступе материалов всех курсов института.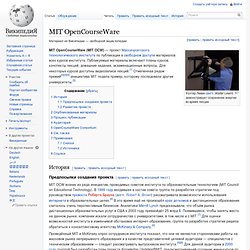 Публикуемые материалы включают планы курсов, конспекты лекций, домашние задания, экзаменационные вопросы. Для некоторых курсов доступны видеозаписи лекций.[1] Отмеченная рядом премий[2][3][4] инициатива MIT подала пример, которому последовали другие университеты.[5] История[править | править исходный текст] Предпосылки создания проекта[править | править исходный текст]
Learn | Online Learning Tools for a Better Education Experience. Global e-Schools and Communities Initiative. The Global e-Schools and Communities Initiative is an international not-for-profit organisation providing demand-driven assistance to developing countries seeking to harness the potential of Information and Communication Technologies (ICT) to improve their education systems.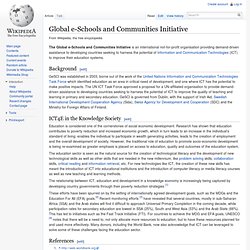 Background[edit] GeSCI was established in 2003, borne out of the work of the United Nations Information and Communication Technologies Task Force which identified education as an area in critical need of development, and one where ICT has the potential to make positive impacts. The UN ICT Task Force approved a proposal for a UN-affiliated organisation to provide demand-driven assistance to developing countries seeking to harness the potential of ICT to improve the quality of teaching and learning in primary and secondary education.
ICT in Education. Skip to the navigation .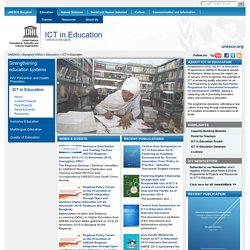 Skip to the content . ICT in EducationUNESCO Bangkok unesco.org Follow Us: UNESCO » Bangkok Office » Education » ICT in Education. Main product page for Splashtop Whiteboard. Quick look at Splashtop Whiteboard and how it could be used in a classroom.Education App ReviewsList of top 10 apps for iOS for K-6 learning. iPad, iPod and iPhone learning app reviews for standards based teaching and classroom use.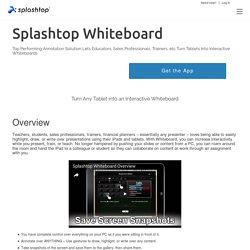 Scholastic Tech Tools Author: Brian Nadel One of the great weaknesses of even second generation iPads in the classroom is the continued lack of support for Flash media and the limitations placed on what you can display with a large-screen monitor or projector. Splashtop Whiteboard app puts an end to these shortcomings by doing tag team class-work between an iPad and a host computer. How Tech Will Transform the Traditional Classroom. Ben Jackson is a writer and app developer living in Brooklyn, NY.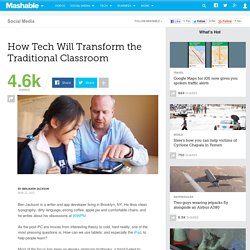 He likes clean typography, dirty language, strong coffee, apple pie and comfortable chairs, and he writes about his obsessions at 90WPM. As the post-PC era moves from interesting theory to cold, hard reality, one of the most pressing questions is: How can we use tablets, and especially the iPad, to help people learn? Most of the focus has been on ebooks replacing textbooks, a trend fueled by Apple's recent updates to iBooks. Specifically, the company released iBooks Author, a tool for creating immersive ebooks on the desktop.
---