Collaboration tools
В России с марта 2013 года! Акция! При покупке 2-х лицензий Доку Тулз, скидка на 2-ю лицензию - 30%! Доку Тулз (docu tools) - программный комплекс, построенный на основе РС компьютеров и мобильных устройств iPad, предназначенный для фиксации данных (дефекты, объемы, сроки, стоимость, проблемы, успехи, документы и т.д.) на объекте строительства или эксплуатации. Основная идея, реализованная в Доку Тулз, заключается в том, что все данные, которые имеют отношение к конкретному месту на Объекте, собираются и хранятся в одной Метке, привязанной программно и визуально к конкретной точке на плане (чертеже) и НИКОГДА не удаляются.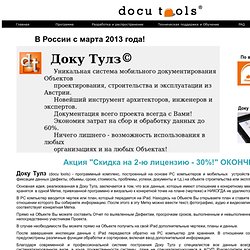 Docu Tools, Доку Тулз, программа, software, строительство
Powerful business social networking & social enterprise ecosystems – Clearvale.com
RunTheModel - Simulation Models
Интернет-магазин Chrome - diagrams
Электронное правительство в России / eGov 2.0
Founded in 2008 in NYC, Producteev was born out of a simple for a full-featured task management application designed with simplicity in mind. We needed to be able to collaborate effortlessly from anywhere: via the web, email, IM, mobile, desktop... And we needed to be able to share information in real time with all our team members, no matter how computer-savvy they are … or aren't.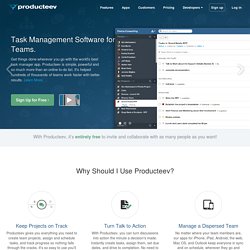 Force.com's cloud computing infrastructure enables faster application development The Force.com cloud computing platform is radically changing the way that IT departments and developers think about cloud computing applications and business application development. Force.com offers an extremely powerful, scalable, and secure cloud computing platform.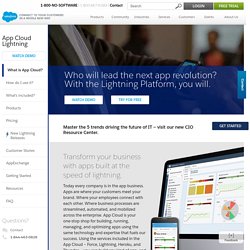 Collaborate instantly with social communications using integrated voice, data, and video IBM® Sametime® products integrate real-time social communications into your business environment, providing a unified user experience through instant messaging, online meetings, voice, video and data. With just one click, you are instantly connected to the person behind the information, helping to meet the ongoing demands of everyday business. IBM Sametime supports social communications with features that include: Enterprise instant messaging, online presence indicators and community collaboration for instant connection to the people behind the information in your social business environment.Online meetings that offer high-definition audio and video and document, application and screen sharing.New!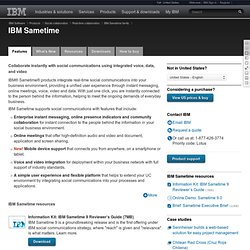 Sametime - unified communications and collaboration software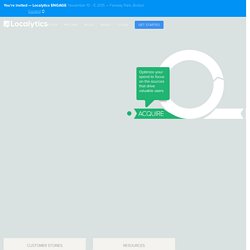 5,000 Companies 20,000 Apps 1 billion Devices 50 billion Monthly Datapoints Drive your app strategy with insights and action. Analytics
Rave Reviews – MikeSmyrna This app does it right!
Pro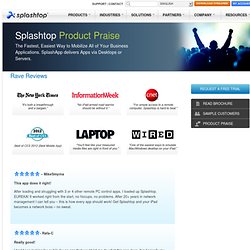 CrowdCompass builds event mobile apps your attendees will want to use. There's a reason we come up as the #1 event app developer in the app store. With more than 2,000 event apps published, we're dedicated to delivering the best mobile event experience. Ready to get started? CrowdCompass offers innovative app development for all types of corporate events—conferences, meetings, conventions, and trade shows.
CrowdCompass — Mobile Apps for Conferences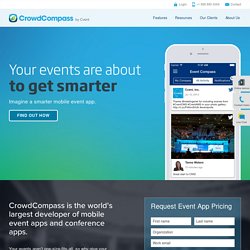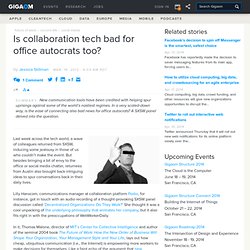 Is collaboration tech bad for office autocrats too? — Online Collaboration
Last week across the tech world, a wave of colleagues returned from SXSW, inducing some jealousy in those of us who couldn't make the event. But besides bringing a bit of envy to the office or social media chatter, returnees from Austin also brought back intriguing ideas to spur conversations back in their daily lives. Lilly Hanscom, communications manager at collaboration platform Podio, for instance, got in touch with an audio recording of a thought-provoking SXSW panel discussion called 'Decentralized Organizations: Do They Work?' She thought it was a cool unpacking of the underlying philosophy that animates her company, but it also fits right in with the preoccupations of WebWorkerDaily.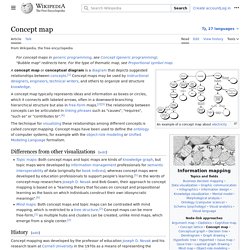 A concept map is a diagram that depicts suggested relationships between concepts. It is a graphical tool that designers, engineers, technical writers, and others use to organize and structure knowledge. A concept map typically represents ideas and information as boxes or circles, which it connects with labeled arrows in a downward-branching hierarchical structure. The relationship between concepts can be articulated in linking phrases such as causes, requires, or contributes to.[1] Overview[edit] A concept map is a way of representing relationships between ideas, images, or words in the same way that a sentence diagram represents the grammar of a sentence, a road map represents the locations of highways and towns, and a circuit diagram represents the workings of an electrical appliance.
Open Services for Lifecycle Collaboration
CRM и Call-центры. Портал об управлении отношениями с клиентами, CRM консалтинге и услугах по внедрению ПО CRM
Перевод статьи The Top Ten Intranet and Digital Workplace Predictions for 2011 Пола Миллера (Paul Miller) — генерального директора и основателя Intranet Benchmarking Forum (IBF), сообщества специалистов по интранет, в котором представлено более 100 крупнейших международных компаний, включая Aviva, AT&T, AXA, BP, Citi, Deutsche Post/DHL, ExxonMobil, ING, IKEA, Kraft, Microsoft, Nokia, Sanofi-Aventis, Sara Lee, Total, и Verizon. Пристегните ремни! 2011-й обещает быть важнейшим годом для интранетов и digital workplace.
Десять трендов развития интранетов в 2011 году – интранеты исчезают | Net4People - корпоративные социальные сети
Enterprise Document Management (EDM)
Kerio Technologies | Connect. Communicate. Collaborate. Securely. | Kerio