Collaboration tools
Docu Tools, Доку Тулз, программа, software, строительство. Powerful business social networking & social enterprise ecosystems – Clearvale.com. RunTheModel - Simulation Models. YaM — Make Meetings Matter! Интернет-магазин Chrome - diagrams. Электронное правительство в России / eGov 2.0. Our task management software comes free or with a small fee for teams. Social & Mobile Application Development Platform - Force.com. Force.com's cloud computing infrastructure enables faster application development The Force.com cloud computing platform is radically changing the way that IT departments and developers think about cloud computing applications and business application development.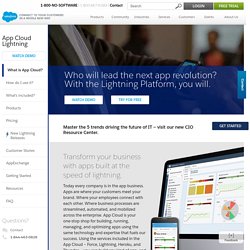 Force.com offers an extremely powerful, scalable, and secure cloud computing platform. Sametime - unified communications and collaboration software. Collaborate instantly with social communications using integrated voice, data, and video IBM® Sametime® products integrate real-time social communications into your business environment, providing a unified user experience through instant messaging, online meetings, voice, video and data.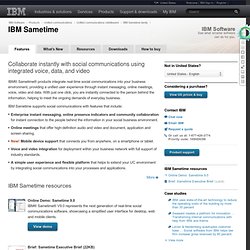 With just one click, you are instantly connected to the person behind the information, helping to meet the ongoing demands of everyday business. IBM Sametime supports social communications with features that include: Enterprise instant messaging, online presence indicators and community collaboration for instant connection to the people behind the information in your social business environment.Online meetings that offer high-definition audio and video and document, application and screen sharing.New! Localytics | Mobile App Analytics | Audience Data | iPhone, iPad, Android, HTML5, Windows Phone, Blackberry. Cloud services. Pro. Rave Reviews – MikeSmyrna This app does it right!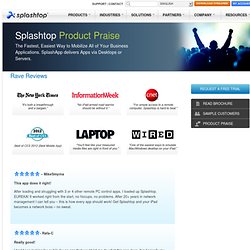 CrowdCompass — Mobile Apps for Conferences. Is collaboration tech bad for office autocrats too? — Online Collaboration. Last week across the tech world, a wave of colleagues returned from SXSW, inducing some jealousy in those of us who couldn't make the event.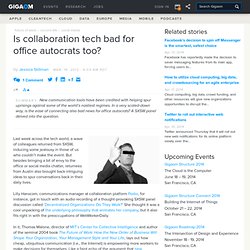 But besides bringing a bit of envy to the office or social media chatter, returnees from Austin also brought back intriguing ideas to spur conversations back in their daily lives. Lilly Hanscom, communications manager at collaboration platform Podio, for instance, got in touch with an audio recording of a thought-provoking SXSW panel discussion called 'Decentralized Organizations: Do They Work? ' She thought it was a cool unpacking of the underlying philosophy that animates her company, but it also fits right in with the preoccupations of WebWorkerDaily.
Concept map - Wikipedia, the free encyclopedia - Iceweasel. A concept map is a diagram that depicts suggested relationships between concepts.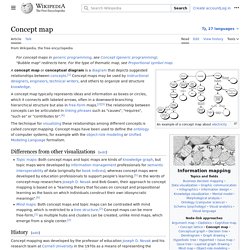 It is a graphical tool that designers, engineers, technical writers, and others use to organize and structure knowledge. A concept map typically represents ideas and information as boxes or circles, which it connects with labeled arrows in a downward-branching hierarchical structure. The relationship between concepts can be articulated in linking phrases such as causes, requires, or contributes to.[1] Overview[edit] A concept map is a way of representing relationships between ideas, images, or words in the same way that a sentence diagram represents the grammar of a sentence, a road map represents the locations of highways and towns, and a circuit diagram represents the workings of an electrical appliance.
Jazz Community Site. Open Services for Lifecycle Collaboration.
CRM и Call-центры. Портал об управлении отношениями с клиентами, CRM консалтинге и услугах по внедрению ПО CRM. Intalio, Inc. Десять трендов развития интранетов в 2011 году – интранеты исчезают | Net4People - корпоративные социальные сети. Перевод статьи The Top Ten Intranet and Digital Workplace Predictions for 2011 Пола Миллера (Paul Miller) — генерального директора и основателя Intranet Benchmarking Forum (IBF), сообщества специалистов по интранет, в котором представлено более 100 крупнейших международных компаний, включая Aviva, AT&T, AXA, BP, Citi, Deutsche Post/DHL, ExxonMobil, ING, IKEA, Kraft, Microsoft, Nokia, Sanofi-Aventis, Sara Lee, Total, и Verizon.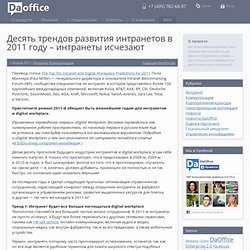 Пристегните ремни! 2011-й обещает быть важнейшим годом для интранетов и digital workplace.
ECM. Enterprise Document Management (EDM) Open Source Enterprise Content Management System (CMS) by Alfresco. Kerio Technologies | Connect. Communicate. Collaborate. Securely. | Kerio.
---