Civilzation
Civilization
Technology or technologies (or Advances in the early civ games) are what you research to further advance your empire to enable the use of new units, buildings, wonders, or other powers. For a complete list look at the specific technology tree for your game. Civilization Civilization II Civilization III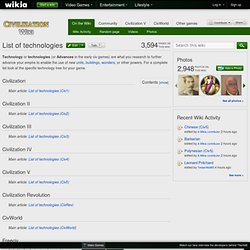 Tech Tree
After nearly 20 iterations in slightly over a year, Yitzi's .exe patch for Sid Meier's Alien Crossfire, the Alpha Centauri expansion, has become a must-have for many SMACers. Yitzi said the project, incorporating previous patching from scient and kyrub, arose from a desire to better balance AC gameplay. "The main purpose is that the game has certain imbalances and design flaws, and is good enough for them to be worth fixing; some can be fixed via modding the attached text files, particularly alphax.txt, but some can't, so I'm making it so that they can by adding new variables that can be modded. "It fixes some bugs and adds a lot of new modding options, and will add more in the future. It's still technically in beta, so if you find a bug with it that isn't in previous patches just report it and it'll get fixed.
Apolyton Civilization Site | Comprehensive Civilization-Related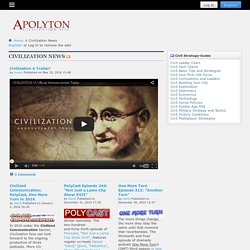 The Civilization V Hall of Fame has been updated. 113 games were accepted since the previous update. Congratulations to Cromagnus for the highest Firaxis score of the update with a Prince, Time, Standard, Tiny, Lakes, Aztec (Montezuma) [BNW] game for 16578 points. TractorBoy was the most active player during this update, submitting 15 games.
CIVILOPEDIA Online
October 15, 2013 - Updated all languages for game version 1.0.3.142 September 12, 2013 - Added missing Game Info section to Terrains and Features where applicable August 23, 2013 - Updated all languages for game version 1.0.3.70 July 18, 2013 - Corrected images for Promotions. Gods & Kings version is still available here but will no longer be updated. July 9, 2013 - Updated for Brave New World Expansion July 3, 2013 - Updated all languages for game version 1.0.3.18 November 20, 2012 - Updated all languages for game version 1.0.2.21 November 4, 2012 - Fixed missing Korean text November 1, 2012 - Updated all languages for game version 1.0.2.13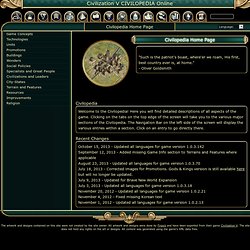 Wiki