Thunderbird
10 Add-Ons You Have to Know About For Google Chrome. Useful Firefox Add-Ons for Designers and Developers. One of the many compelling reasons why Mozilla Firefox is by far the most used browser by web developers and designers is it's variety of Add-Ons that come free, can be easily integrated and used right from the browser.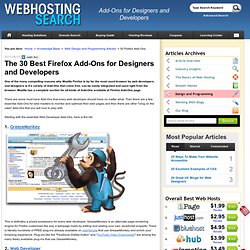 Mozilla has a complete section for all kinds of Add-Ons available at Firefox Add-Ons page. There are some must have Add-Ons that every web developer should have no matter what. Then there are a few essential Add-Ons for web masters to monitor and optimize their web pages and then there are other "icing on the cake" Add-Ons that you will love to play with. Setting up an extension development environment - MDC.
This article gives suggestions on how to set up your Mozilla application for extension development.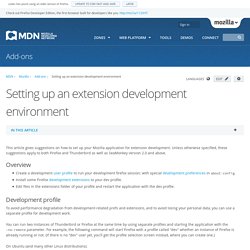 Unless otherwise specified, these suggestions apply to both Firefox and Thunderbird as well as SeaMonkey version 2.0 and above. Overview Create a development user profile to run your development firefox session; with special development preferences in about:config. Install some Firefox development extensions to your dev profile. Edit files in the extensions folder of your profile and restart the application with the dev profile. Extensions - MDC. Modify and extend Mozilla applications Add-ons add new functionality to Gecko-based applications such as Firefox, SeaMonkey and Thunderbird.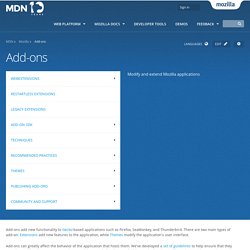 There are two main types of add-on: Extensions add new features to the application, while Themes modify the application's user interface. For both extensions and themes, Mozilla operates a repository at addons.mozilla.org, also known as AMO. Extension Packaging - MDC. Extensions are a form of Installable Bundle which can be downloaded and installed by a user, or provided pre-packaged with an application or by an external program.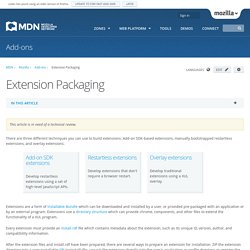 Extensions use a directory structure which can provide chrome, components, and other files to extend the functionality of a XUL program. Every extension must provide an install.rdf file which contains metadata about the extension, such as its unique ID, version, author, and compatibility information.
---