Loader
run loaderor download on BitBucket jQuery.PercentageLoader is a jQuery plugin for displaying a progress widget in more visually striking way than the ubiquitous horizontal progress bar / textual counter. Installation and use is quick and simple. It makes use of HTML 5 canvas for a rich graphical appearance with only a 10kb (minified) javascript file necessary (suggested web font optional), using vectors rather than images so can be easily deployed at various sizes. It is open source (BSD licensed) and available with instructions on BitBucket [here] or you can just grab the files [here] more examples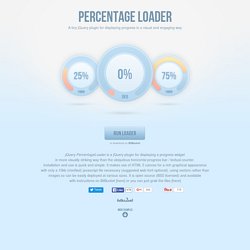 Google Analytics doesn't track file downloads automatically. I needed unobtrusive and framework agnostic download tracking for Google Analytics. That's when Entourage.js was born. Entourage.js is Automatic Download Tracking for Asynchronous Google Analytics. Why Entourage? To be honest, I wish this extension wasn't necessary.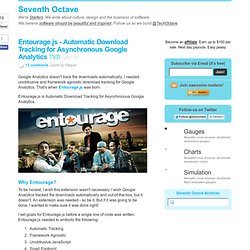 Entourage.js - Automatic Download Tracking for Asynchronous Google Analytics
Example Features No images, no external CSS No dependencies (jQuery is supported, but not required) Highly configurable Resolution independent Uses VML as fallback in old IEs Uses @keyframe animations, falling back to setTimeout() Works in all major browsers, including IE6 MIT License
Introducing LazyLoad 2.0 Example
Simple Overlay | A jQuery Plugin For Lightweight, Flexible, and Customizable Overlays
Adapt.js is a lightweight (842 bytes minified) JavaScript file that determines which CSS file to load before the browser renders a page. If the browser tilts or resizes, Adapt.js simply checks its width, and serves only the CSS that is needed, when it is needed. A potential drawback of Adapt.js is the possibility of a brief flash of unstyled content as a new stylesheet is being fetched (think of it as "Ajax" for CSS). I have done my best to mitigate this by keeping CSS files small (3 KB).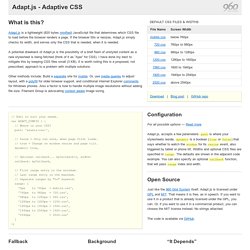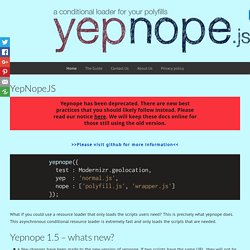 yepnope is an asynchronous conditional resource loader that's super-fast, and allows you to load only the scripts that your users need. There are only a handful of things to know about yepnope. There are only 5 functions available to you and there's only one that's really important. yepnope(resources ) The yepnope function is the core of yepnope.js (crazy, huh?).