Capability
Comment fonctionnent les navigateurs : dans les coulisses des navigateurs Web modernes
Firefox dispose de deux arbres supplémentaires pour un calcul plus facile du style, l'arbre des règles et l'arbre de contexte de style.
Quel navigateur offre la meilleure compatibilité avec les web apps HTML5 ?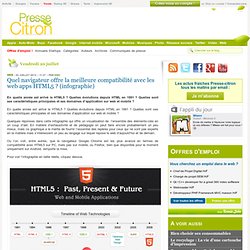 Vendredi 20 juillet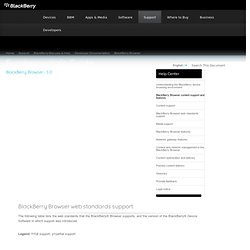 Browser web standards support
Legal Notice: By posting, uploading, inputting, providing or submitting any information to this site, you consent to Read More » RIM's collection of such information, and you grant RIM, its affiliated companies and necessary sublicensees permission to use such submitted information in connection with the operation of this site and its business, including, without limitation, the worldwide, royalty-free rights to: copy, distribute, transmit, publicly display, publicly perform, reproduce, edit, translate and reformat your submitted information; and to publish your name any contact information you approve of in connection with your submitted information. You warrant and represent that you own or otherwise control all of the rights to any information submitted by you to RIM through this site or otherwise, including, without limitation, all the rights necessary for you to provide, post, upload, input or submit your submitted information.