API
FRAPI est un framework PHP permettant de créer rapidement une API RESTful pour votre site web. Voici une ressource que j'attendais personnellement depuis longtemps: Pouvoir créer une API RESTFul en PHP facilement à l'aide d'un Framework. Le monde du Web de demain se veut de plus en plus ouvert et intéropérable. A mon avis, les APIs et Webservices seront au Web 3.0 ce qu'ont été les flux RSS pour le Web 2.0: Indispensables ! FRAPI vous permettra de générer la structure de votre API RESTful PHP , il ne vous restera plus qu'à développer la logique métier. Grâce à une interface d'administration web, vous pourrez ajouter des méthodes à votre webservice en quelques clics ...
FRAPI - Un framework PHP pour créer son API RESTFul facilement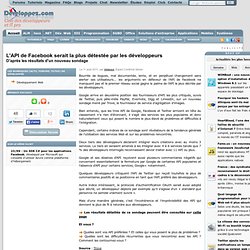 Bourrée de bogues, mal documentée, lente, et en perpétuel changement sans alerter ses utilisateurs... les arguments en défaveur de l'API de Facebook ne manquent pas et le premier réseau social gagne le palme de l'API la plus décriée par les développeurs. Google arrive en deuxième position des fournisseurs d'API les plus critiqués, suivis de Twitter, puis pêle-mêle PayPal, Evernote, Digg et LinkedIn, sur un nouveau sondage mené par Trove, le fournisseur de service d'agrégation d'images. Bien entendu, que les trois API de Google, Facebook et Twitter arrivent en tête du classement n'a rien d'étonnant, il s'agit des services les plus populaires et donc naturellement ceux qui posent le nombre le plus élevé de problèmes et difficultés à l'intégration. Cependant, certains indices de ce sondage sont révélateurs de la tendance générale de l'utilisation des services Web et sur les problèmes rencontrés. Deux tiers des développeurs déclarent intégrer leurs créations avec au moins 3 services.
L'API de Facebook la plus détestée par les développeurs, d'après les résultats d'un nouveau sondage
Behind almost every successful web application, there is an as they simply help the main application to spread into others & reached by more users. Also, an API-enabled application using the API itself. In order to for your web application, here are . But before that, you may want to checkout the video: How To Design A Good API and Why it Matters by Google. A very detailed yet easy-to-implement . And, there is a follow-up article: " Making RESTful Requests in PHP " by the same author which can guide you as well.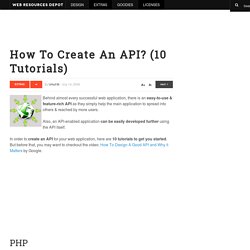 How To Create An API? (10 Tutorials)