Programacion
ALT.NET Hispano / van-2010-08-21-bdd-mspec. The Limited Red Society. Bio Joshua Kerievsky has been programming professionally since 1987, and is the founder of Industrial Logic ( a company specializing in Extreme Programming (XP).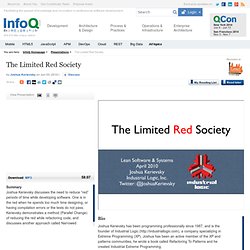 Joshua has been an active member of the XP and patterns communities, he wrote a book called Refactoring To Patterns and he created Industrial Extreme Programming. Vimcasts. Using Git in Ruby Applications - Scott Chacon :: tutorial, videos, articles, screencast to learn technology" This talk will demonstrate different ways you can use Git in your Ruby applications using Grit, the main binding library for Git in Ruby.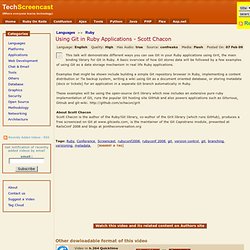 A basic overview of how Git stores data will be followed by a few examples of using Git as a data storage mechanism in real life Ruby applications. Examples that might be shown include building a simple Git repository browser in Ruby, implementing a content distribution or ? Le backup system, writing a wiki using Git as a document oriented database, or storing metadata (docs or tickets) for an application in a separate Git branch automatically in Ruby. Dime Casts.Net -- Inform and Educate in ~10 Minutes or Less. In this episode we are going to start to take a look at the Lucene.Net Search Engine Library.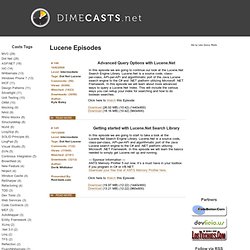 Lucene.Net is a source code, class-per-class, API-per-API and algorithmatic port of the Java Lucene search engine to the C# and .NET platform utilizing Microsoft .NET Framework. In this episode we will learn the basics needed to simply get Lucene.net up and running.
---