Firefox
Webchunks Tutorial. Author: Daniel Glazman <daniel@glazman.org> 1.
About Webchunks Webchunks is an extension to Firefox 3 for all platforms implementing Internet Explorer Webslices and even extending them. With the use of a great extra extension to Firefox, Greasemonkey to name it, it's possible to insert Webchunks/Webslices in all web pages, regardless of the fact the site's author did not add Webchunks/Webslices to the site.
Note: this tutorial will use only the word Webchunk for this point. Mozilla XPath Documentation. Best Firefox Extensions for Webmasters, Add-ons for Firefox. The Mozilla Firefox web browser can be pimped out with a number of extensions to make many webmaster tasks a lot easier.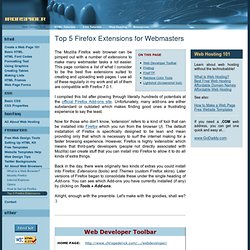 This page contains a list of what I consider to be the best five extensions suited to creating and uploading web pages. I use all of these regularly in my work and all of them are compatible with Firefox 7.0.1. I compiled this list after plowing through literally hundreds of potentials at the official Firefox Add-ons site. Unfortunately, many add-ons are either substandard or outdated which makes finding good ones a frustrating experience to say the least.
Now for those who don't know, 'extension' refers to a kind of tool that can be installed into Firefox which you run from the browser UI. Ruby extension library for embedding Python in Ruby.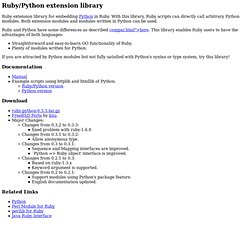 With this library, Ruby scripts can directly call arbitrary Python modules. Both extension modules and modules written in Python can be used. Ruby and Python have some differences as described compar.html">here. Forever For Now - Ubuntu Firefox Themes. Introduction Background In April 2006 I checked out a beta version of the Dapper Drake release of Ubuntu Linux.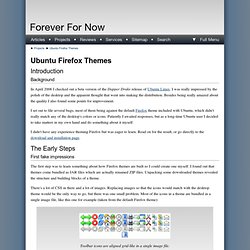 I was really impressed by the polish of the desktop and the apparent thought that went into making the distribution. Besides being really amazed about the quality I also found some points for improvement. What is Outfoxed. Outfoxed is the implementation side of my master's thesis at the University of Osnabrück, Germany.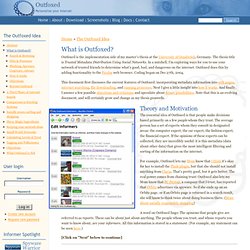 The thesis title is Trusted Metadata Distribution Using Social Networks. In a nutshell, I'm exploring ways for you to use your network of trusted friends to determine what's good, bad, and dangerous on the internet. Outfoxed does this by adding functionality to the Firefox web browser. How to create Firefox extensions. Firefox-extensions.info :: Because extensions make the browser - Mozilla Firefox Extension.
---