Bittorrent 2
Sharech - Buscador de descargas directas. Speckly - Buscador de torrents simplificado. Aria2: Cliente de descargas bittorrent, http, ftp, metalink (multipels fuentes simultaneas) P2P via Web. NowTorrents - Find Torrents In Real-Time! Tagoo :: your mp3 navigator. Alliance P2P - Safe file sharing.
HDCity - Index. 2007 July « Treat with Jermolene. Buzm : Peer-to-Peer Wiki. .NET P2P: Writing Peer-to-Peer Networked Apps with the Microsoft .NET Framework -- MSDN Magazine, February 2001. He Microsoft® .NET Framework SDK is a common framework of classes designed to provide a rich platform for building applications.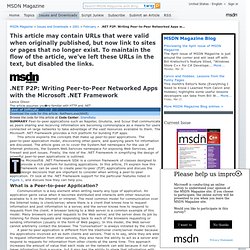 In this article, I'll explain how this framework can be used to create peer-to-peer (P2P) applications and discuss the design decisions that are important to consider when writing a peer-to-peer application. I'll look at the .NET Framework support for the particular features listed in Figure 1, and discuss how they can help you. What is a Peer-to-peer Application? Software Home. The Torrent Jabberwalker. ePOST Serverless Email System.
Participatory Culture Foundation.
---