Bittorrent 2
Sharech - Buscador de descargas directas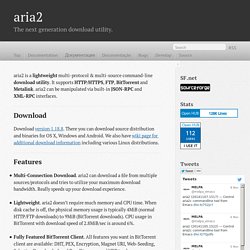 Aria2: Cliente de descargas bittorrent, http, ftp, metalink (multipels fuentes simultaneas)
aria2 is a lightweight multi-protocol & multi-source command-line download utility. It supports HTTP/HTTPS, FTP, BitTorrent and Metalink. aria2 can be manipulated via built-in JSON-RPC and XML-RPC interfaces. Download Download version 1.18.5. There you can download source distribution and binaries for OS X, Windows and Android.
Looking for a place to download music or video? Tagoo knows where to find more than 20 million audio and video files: mp3, music videos, audiobooks, clips, podcasts. What is Tagoo? Tagoo - is a unique search engine that specializes in search of media-content: audio and video files. Tagoo distinguishes more than 50 extension of music and video. Tagoo is constantly in development.
Tagoo :: your mp3 navigator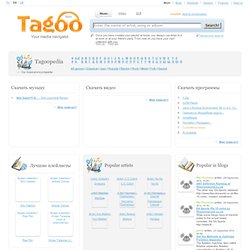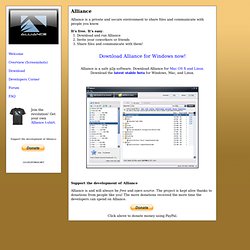 Alliance Alliance is a private and secure environment to share files and communicate with people you know. It's free.
Alliance P2P - Safe file sharing
2007 July « Treat with Jermolene
Buzm : Peer-to-Peer Wiki
.NET P2P: Writing Peer-to-Peer Networked Apps with the Microsoft .NET Framework -- MSDN Magazine, February 2001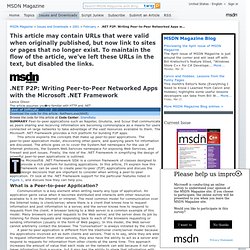 he Microsoft® .NET Framework SDK is a common framework of classes designed to provide a rich platform for building applications. In this article, I'll explain how this framework can be used to create peer-to-peer (P2P) applications and discuss the design decisions that are important to consider when writing a peer-to-peer application. I'll look at the .NET Framework support for the particular features listed in Figure 1, and discuss how they can help you. What is a Peer-to-peer Application?
The Torrent Jabberwalker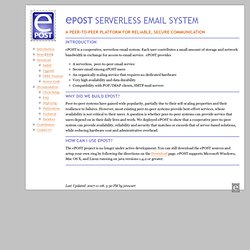 ePOST Serverless Email System
Introduction ePOST is a cooperative, serverless email system. Each user contributes a small amount of storage and network bandwidth in exchange for access to email service. ePOST provides A serverless, peer-to-peer email service Secure email emong ePOST users An organically scaling service that requires no dedicated hardware Very high availability and data durability Compatibility with POP/IMAP clients, SMTP mail servers Why Did We Build ePOST? Peer-to-peer systems have gained wide popularity, partially due to their self-scaling properties and their resilience to failures. However, most existing peer-to-peer systems provide best-effort services, whose availability is not critical to their users.