SEWING
Baby Lock Project Template - OrganizeMe.pdf
Sesir sa dva lica
Am I about to post something on ACTUAL UCREATE?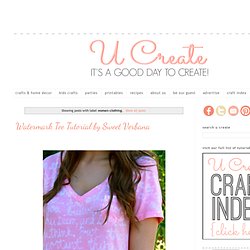 Ucreate: women-clothing
Make This Look
Supplies: Husband's old t-shirt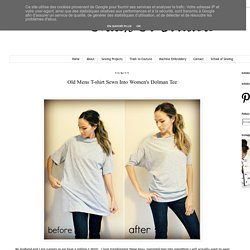 Beach Towel Dress
School's out and summer vacation is here!Have you taken a dip in the pool?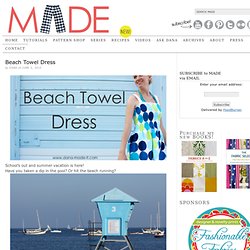 Now that you've picked out your perfect grill, it's time to get yourself to the beach! When we saw this wrap in the latest Victoria's Secret catalog we knew we had to make it, and we knew we could make it rock.
Turn Any Yard of Fabric into a Chic Beach Wrap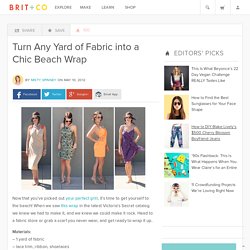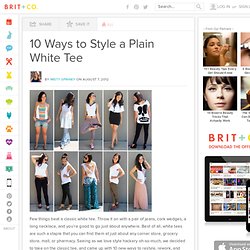 Few things beat a classic white tee.
Here's the deal. Flip flops are absolutely essential for summer, but sometimes they are downright boring. The fancy ones hurt your feet and the comfy ones look like shower shoes.
10 Ways to Trick Out Your Flip Flops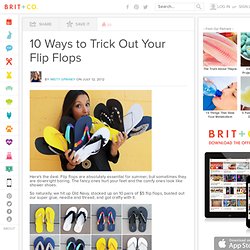 Finally–the long-awaited beltmaking tutorial!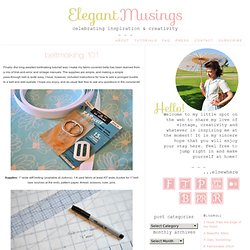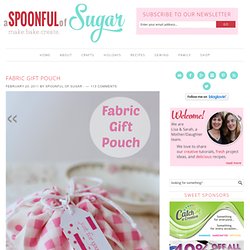 Here is a little fabric gift pouch - it is the perfect size to gift some jewellery or other small item.
Felt Pencil Case - Martha Stewart Kids Crafts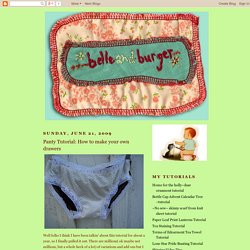 Well folks I think I have been talkin' about this tutorial for about a year, so I finally pulled it out. There are millions( ok maybe not millions, but a whole heck of a lot) of variations and add ons but I was trying to do the simplest one first.
Saraquill - Sorry for the slow reply. Personally?
Festive Attyre: 1910s corset pattern and instructions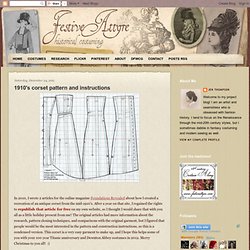 Bridesmaid Kits from Menswear
May 2 This post is sponsored by Dove® ClearTone™ Deodorant – designed to visibly reduce underarm dark marks and even skin tone. Here is a little project that takes about 45 minutes to do and about $6 in supplies.
craftbits.com DIY Crafts and Handmade Gift Ideas You are here: Home / Sewing Crafts Sewing Crafts Sewing can be so creative and we have free sewing patterns for all ages including purse and bag patterns, home decor projects, kids sewing patterns and lots of fun novelty patterns too. Share on facebook7 Share on twitter1 Share on pinterest_share9 Share on stumbleupon?
Sewing Crafts - Free projects and DIY gift ideas from Craftbits.com
Tag Wallet
*Tutorial by Jessica @ Running With Scissors for her win during the For Me challenge of Season 10* Due to different sizes and needs to make your own custom coat, I'm sharing the ways I altered a purchased sewing pattern to fit my own needs and tips in construction that I prefer to the pattern steps. Basically, the pattern calls for hand-stitched hems and I skip that and use a few tricks to do as much as I can on the machine for a quicker, stronger seam because I detest hand sewing and avoid it whenever possible. I used McCalls 5525 as my base pattern for this coat. I knew I was lining it with fleece which is thicker than regular lining, so I started off by cutting out 1 size larger than my measurements to make room for the thick lining. I also have broad shoulders for a chick, so when I cut out my coat, I taper my cut lines to the next size up for each line/piece above the chest.
Wool Pea Coat Tutorial
*Tutorial by Wendy @ Crafty Goodies for her win of the Sunshine challenge of season 11* When we were emailed the list of themes for this season "Sunshine" was the one I was crossing my fingers that I'd make it to. It was the only theme that I knew immediately what I wanted to do, so needless to say I am beyond excited that you all liked it too!
Hammock Swing Tutorial
No-Sew Summer Picnic Basket Tutorial
Sew Your Own Mittens - A Beautiful Mess
skinny wallet pride by handmadeclassics on Etsy
Tutorials
Crafts & DIY Inspiration