SEWING
Baby Lock Project Template - OrganizeMe.pdf. Sesir sa dva lica.
Women-clothing. Am I about to post something on ACTUAL UCREATE?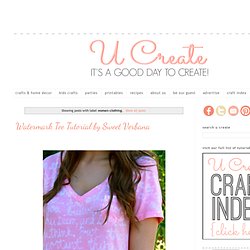 Is this a dream? No. It can't be. Make This Look. Old Mens T-shirt Sewn Into Women's Dolman Tee. Beach Towel Dress. School's out and summer vacation is here!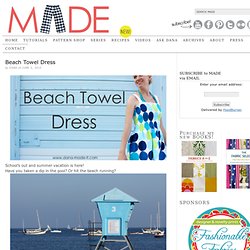 Have you taken a dip in the pool? Or hit the beach running? As a mom, water activities with kids is a juggling act. And if you're like me, your post-swimming towel is always falling off as you try to manage 10 other things. There's a better way! Turn Any Yard of Fabric into a Chic Beach Wrap. Now that you've picked out your perfect grill, it's time to get yourself to the beach!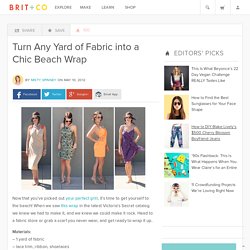 When we saw this wrap in the latest Victoria's Secret catalog we knew we had to make it, and we knew we could make it rock. Head to a fabric store or grab a scarf you never wear, and get ready to wrap it up. Materials: - 1 yard of fabric - lace trim, ribbon, shoelaces - sharp fabric scissors - sewing machine or needle and thread First, gather your materials! For your fabric, we recommend lycra, spandex, sheer mesh, or anything else that doesn't fray when you cut it, but use whatever you like! 10 Ways to Style a Plain White Tee. Few things beat a classic white tee.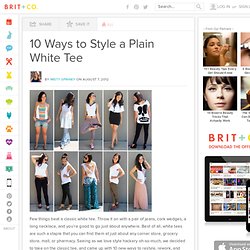 Throw it on with a pair of jeans, cork wedges, a long necklace, and you're good to go just about anywhere. Best of all, white tees are such a staple that you can find them at just about any corner store, grocery store, mall, or pharmacy. Seeing as we love style hackery oh-so-much, we decided to take on the classic tee, and came up with 10 new ways to restyle, rework, and totally transform it. If you have any questions about specific tutorials below, be sure to leave us a note in the comments. 10 Ways to Trick Out Your Flip Flops. Here's the deal.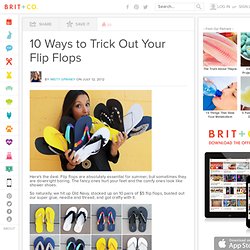 Flip flops are absolutely essential for summer, but sometimes they are downright boring. The fancy ones hurt your feet and the comfy ones look like shower shoes. Beltmaking 101. Finally–the long-awaited beltmaking tutorial!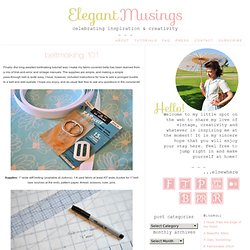 Way I make my fabric-covered belts has been learned from a mix of trial-and-error and vintage manuals. The supplies are simple, and making a simple pass-through belt is quite easy. I have, however, included instructions for how to add a pronged buckle to a belt and add eyelets. A Spoonful of Sugar: Fabric Gift Pouch. Here is a little fabric gift pouch – it is the perfect size to gift some jewellery or other small item.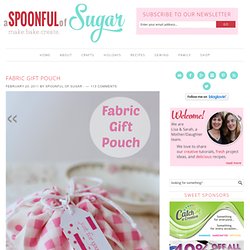 The inspiration came from a Japanese magazine. They are really quick to make. Materials: Felt Pencil Case - Martha Stewart Kids Crafts. Panty Tutorial: How to make your own drawers. Well folks I think I have been talkin' about this tutorial for about a year, so I finally pulled it out.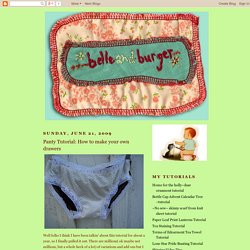 There are millions( ok maybe not millions, but a whole heck of a lot) of variations and add ons but I was trying to do the simplest one first. Materialsthreadsewing machine1 yd stretch elastic or fold over elasticpaper for pattern(paper bag or newspaper)scissorsold t shirt or any knit materialpair of underwear to cut and make pattern from Make your knickers !! 1. Cut or fold your undies so you can make your pattern. Festive Attyre: 1910s corset pattern and instructions. Saraquill - Sorry for the slow reply.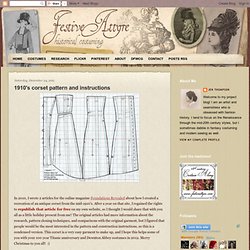 Personally? Yes, I try to keep the proportions the same even with overbust corsets. That means that I need to pad the bust at times, but that was a very period practice. Victorian corsetry is all about smoke and mirrors, and it is as much about making the hips and bust look bigger as it is about making the waist look smaller. It's all about creating the illusion of an hourglass.BUT... Bridesmaid Kits from Menswear. May 2 This post is sponsored by Dove® ClearTone™ Deodorant – designed to visibly reduce underarm dark marks and even skin tone.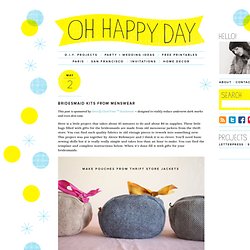 Here is a little project that takes about 45 minutes to do and about $6 in supplies. Sewing Crafts - Free projects and DIY gift ideas from Craftbits.com. Craftbits.com DIY Crafts and Handmade Gift Ideas You are here: Home / Sewing Crafts Sewing Crafts Sewing can be so creative and we have free sewing patterns for all ages including purse and bag patterns, home decor projects, kids sewing patterns and lots of fun novelty patterns too. Share on facebook Share on twitter Share on pinterest_share Share on stumbleupon. Tag Wallet. Wool Pea Coat Tutorial. *Tutorial by Jessica @ Running With Scissors for her win during the For Me challenge of Season 10* Due to different sizes and needs to make your own custom coat, I'm sharing the ways I altered a purchased sewing pattern to fit my own needs and tips in construction that I prefer to the pattern steps. Basically, the pattern calls for hand-stitched hems and I skip that and use a few tricks to do as much as I can on the machine for a quicker, stronger seam because I detest hand sewing and avoid it whenever possible.
I used McCalls 5525 as my base pattern for this coat. I knew I was lining it with fleece which is thicker than regular lining, so I started off by cutting out 1 size larger than my measurements to make room for the thick lining. I also have broad shoulders for a chick, so when I cut out my coat, I taper my cut lines to the next size up for each line/piece above the chest. Hammock Swing Tutorial. *Tutorial by Wendy @ Crafty Goodies for her win of the Sunshine challenge of season 11* When we were emailed the list of themes for this season "Sunshine" was the one I was crossing my fingers that I'd make it to. It was the only theme that I knew immediately what I wanted to do, so needless to say I am beyond excited that you all liked it too! No-Sew Summer Picnic Basket Tutorial. *Tutorial by ChiWei @ One Dog Woof for her win of the Summer Bounty challenge for season 12* Like the Scrap Wood Lantern, the brainstorming process for this project took quite a circuitous route.
I was originally thinking about some summer placemats, but after Drew gave me a big THUMBS DOWN, I asked him for ideas, if he was so clever indeed. We also had to take into account that we were going to be on vacation that week, so I wouldn't have access to my usual assortment of sewing and crafting and woodworking supplies. Little Red Infinity Dress Tutorial. *Tutorial made by Melissa @ Sew Like My Mom for her win during the Red Week challenge.* I made this little dress in about 3 hours and for under $20! I used some soft polyester knit I found at Hancock Fabrics for $4.99/yard. Sew Your Own Mittens. Bleach Painting on Textiles D.I.Y. Majica sa x pozadi.
Skinny wallet pride by handmadeclassics. Tutorials. Crafts & DIY Inspiration.
---