Tutos
Le site web du tricot ! : pointstricot
Les points ajourés au tricot - 2ème série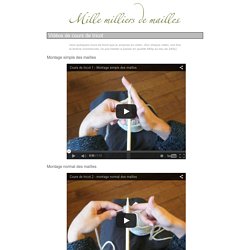 Cette page s'afficherait beaucoup plus joliment avec des feuilles de style (CSS), que votre navigateur ne semble pas prendre en compte. Voici quelques cours de tricot que je propose en vidéo. (Sur chaque vidéo, une fois la lecture commencée, ne pas hésiter à passer en qualité 480p au lieu de 240p) Montage simple des mailles Montage normal des mailles
Vidéos de tricot - Mille milliers de mailles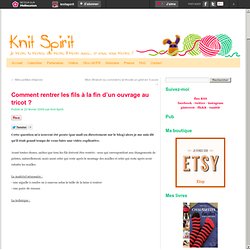 1323 abonnées Tricot / crochet (beaucoup), cuisine (pas mal), beauté (un peu), pas mal d'autres choses, c'est ce que vous pourrez trouver sur mon blog.... {Concours} Gagnez un livre audio avec les éditions Thélème Tweet A l'occasion des Quais du Polar, festival organisé à Lyon ce week-end, les éditions Thélème vous proposent de... Lire la suite › Cours de tricot de chaussettes chez Lil Weasel en avril
Comment rentrer les fils a la fin d'un ouvrage au tricot ?
Sophie's Purse
This cute little vintage style purse was a quick present for my cousin Sophie who loves all things green. To make your own you will need: 10cm x 5cm purse frame (this frame is a small silver frame from u-handbag for tips on using other purse frames see my notes at the end of this post) Textile glue Approximately 115m of DK weight yarn - I used Elle Rustica for a vintage tweed effect. 3.75mm knitting needles Some material for lining Needle and thread 4mm Crochet hook or darning needle for side seams Cast on 44 stitches.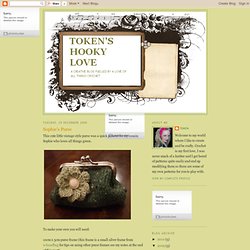 Le site web du tricot ! : pointstricot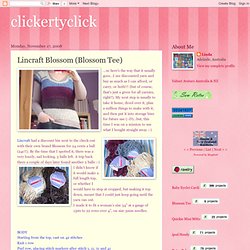 ...so here's the way that it usually goes...I see discounted yarn and buy as much as I can afford, or carry, or both!!! (but of course, that's just a given for all yarnies, right?). My next step is usually to take it home, drool over it, plan a million things to make with it, and then put it into storage bins for future use (:-D)...but, this time I was on a mission to use what I bought straight away :-) Lincraft had a discount bin next to the check-out with their own brand Blossom for 24 cents a ball (24c!!). By the time that I spotted it, there was a very lo nely, sad looking, 3 balls left.
Lincraft Blossom (Blossom Tee)
Top-down raglan : le tutoriel en français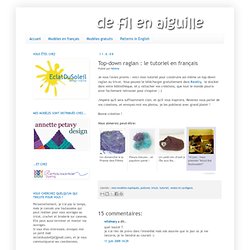 Je vous l'avais promis : voici mon tutoriel pour construire soi-même un top-down raglan au tricot. J'espère qu'il sera suffisamment clair, et qu'il vous inspirera. Revenez nous parler de vos créations, et envoyez-moi vos photos, je les publierai avec grand plaisir !