House
Relocation, Moving, Local City Discussions
MLS database)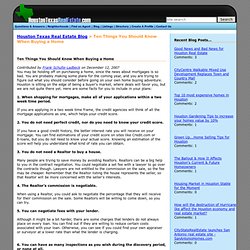 Ten Things You Should Know When Buying a Home
Ten Things You Should Know When Buying a Home Contributed by Frank Schulte-Ladbeck on December 12, 2007 You may be holding off on purchasing a home, since the news about mortgages is so bad. You are probably making some plans for the coming year, and you are trying to figure out what you should consider before going on your own home buying adventure. Houston is sitting on the edge of being a buyer's market, where deals will favor you, but we are not quite there yet. Here are some facts for you to include in your plans:
Updated 4/1/13 5918 Brushy Creek, Dallas, 5/2.5/2/pool, $1850 -- Large house in North Dallas with Plano schools. Click for details.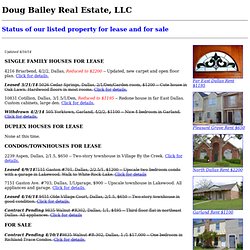 Doug Bailey Real Estate
TX RENTAL HOMES
Steve is a third generation Realtor. His grandparents, Milt and Mabel Holcomb, established Holcomb Realtors in Dallas in the 1950s and continued their real estate practice well into their retirement, while his father was a Realtor and a custom home builder in North Dallas prior to his retirement. His lovely mother, Sue Holcomb (who people still confuse as his wife to her endless amusement), joined up with Steve to form The Holcomb Team, providing our clients her significant skills in interior design and home staging as well as her considerable experience. Steve has followed the example of his family before him, offering every client his skill and experience in all manner of residential and commercial real estate transactions and his unique knowledge of real estate law and fine-tuned skill in negotiation.
Steven Holcomb, Esq.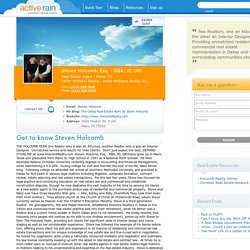 First Place Management, Inc.
Halliday REALTORS
Remax dfw associates
3B REAL ESTATE COMPANY
Phil Merkel, Ebby Halliday: N. TX Rental Homes
THE FACE OF D-FW
Efurd Properties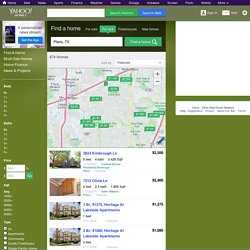 Real Estate
Skip to search. Get new Yahoo! Mail apps Yahoo! Homes
Best Places To Live - CityRating.com
RentalHouses.com
GTF Realty
RentalHomePlus
Rentals.com
FindHomeRentals.com
HomeRentals.net