iTunes Features
Before you install Be sure that you have the administrator username and password available. You will need both to install iTunes. Make sure you have enough disk space. Even small applications may require a few hundred megabytes of space to complete the optimization phase of the installation. Check your hard disk before installing.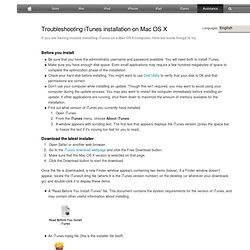 Troubleshooting iTunes installation on Mac OS X
Trouble installing iTunes or QuickTime for Windows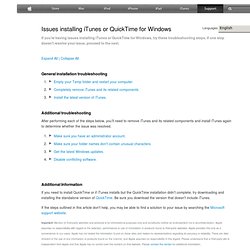 Expand All Sections | Collapse All Sections Important: Issues installing iTunes and QuickTime are successfuly resolved a majority of the time after completing these troubleshooting steps. If one step does not resolve your issue, proceed to the next. Solutions to common installation alerts and messages General installation troubleshooting
iTunes for Mac: How to copy purchases between computers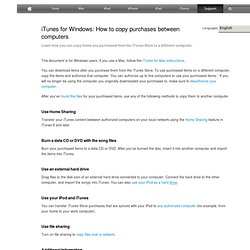 This document is for Windows users. If you use a Mac, see iTunes for Mac: How to copy purchases between computers . You can download items once when you purchase them from the iTunes Store . To use purchased items on a different computer, just copy the items and authorize that computer.
iTunes for Windows: How to copy purchases between computers