PARTS
RAM Controls - Reproduction Arcade Parts. ULTIMATE-ARCADE-STATION : TUTOS, HACK MANETTE DE JEU, ENTRETIEN BORNES D'ARCADE, MVGS. Welcome to OzStick, where we bring Arcade Quality gaming action right into your home!! ADDRESS: PO Box 7068, Croydon South, VIC 3136 Australia.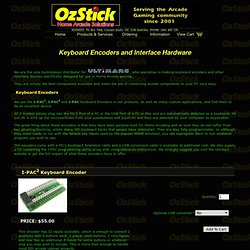 PHONE: 0401 845 726. If you are reading this message then it has been detected that your browser does support JavaScript, or it is disabled. Arcade Parts and Accessories. Build A Home Arcade Machine » Wiring the Controls. Prep work Before you get started wiring you should plan out how you are going to connect everything.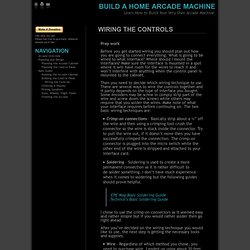 What is going to be wired to what interface? Where should I mount the interfaces? The I-PAC. Value Edition Own a genuine I-PAC Arcade Control Interface for only $35 with Yes we have teamed up with DHLs Global Mail division to bring you this special offer for those on a limited budget.
The I-PAC VE has all of the other special features of the I-PAC2 interface including: Fully compatible with the highly-acclaimed WinIPAC Interactive Panel Design software,Shift key function, Same high-performance 24 Mhz CPU, Self-test LED with full error-detection display. It even supports caps/num/scroll LEDs (hand-wired) When you have read the above, click here to order. Welcome to Ultimarc, the Ultimate in Arcade Controls. Thumb Candy Our range of controls include those made by the largest suppliers in the coin-op industry, such as I-L and Suzo-Happ, plus our own in-house designs.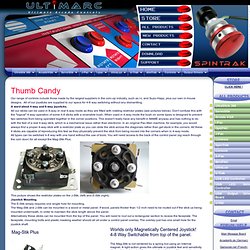 All of our joysticks are supplied to our specs for 4-8 way switching without any dismantling.A word about 4-way and 8-way joysticks. All our sticks can be used in 8-way or real 4-way mode as they are fitted with rotating restrictor plates (see pictures below). Don't confuse this with the "logical" 4-way operation of some 4-8 sticks with a reversible bush. When used in 4-way mode the bush on some types is designed to prevent two switches from being operated together in the corner positions. This doesn't really have any benefit in MAME anyway and has nothing to do with the feel of a real 4-way stick, which is a mechanical issue rather than electronic.
---