jQuery
Get flash to fully experience Pearltrees
Published by Chris Coyier Why?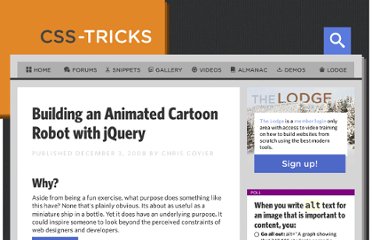 Apr 09 2008 It's really amazing to see what one can create using jQuery. Developers just don't stop making incredibly interactive web applications every now and then.
This article contains 10 visual tutorials intended for web designers and newbies on how to apply Javascript effects with jQuery.
BeautyTips is a jQuery tooltips plugin which uses the canvas drawing element in the HTML5 spec to dynamically draw tooltips (sometimes called "talk bubbles" or "help balloons") associated with a html element on the page. These tips are highly configurable and can be triggered in many different ways.
When it comes to form validation, it's hard to have a versatile solution that works with every form.
A couple of months ago I found myself looking for a jQuery plugin to create a horizontal accordion .