Parenting
Commonly Used Acronyms on Facebook, Twitter and in Text Messages - Net Nanny Glossary | Net Nanny
BabyCenter
10 Things Every Father Should Tell His Son | Word Sharpeners
50 things you should tell your children | Life and Theology
image credit: CreationSwap user Justin Knight Yesterday, I compiled a list of 50 things you should never tell your child . Ever. But that's only half of the story.
Asperger's Syndrome Screening Tools
autism research centre
(773 unread) - vlsutton - Yahoo! Mail
Discipline for Teenagers - Discipline for Children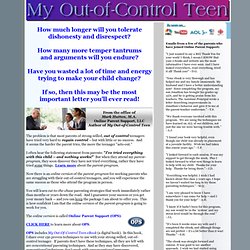 to do this or that was an effective form of discipline -- but since I had to use it each day to correct the same problem, it should have been obvious that it was not a good strategy. I have better tools in my parenting toolbox now. Thanks for all your help." - G.B.
Discipline for Teens and Preteens
Last Child in the Woods: Saving Our Children From Nature-Deficit Disorder eBook: Richard Louv
Healthy Fit Families, Fitness Blog -
Raising Real Men » Blog Archive » When the Red Light District is in Your Living Room
When we were young, a boy had to led astray by an unruly friend or find an ungodly uncle's stash to be tempted by pornography. Not so, now. Now, it's lurking in the sidebars when he checks the football stats and is emailed to him by spammers. Boys don't even have to go looking for it; it comes delivered straight to them. A guy can hardly avoid being tempted by it…every day!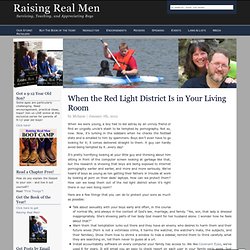 Mom's ransom rubbage...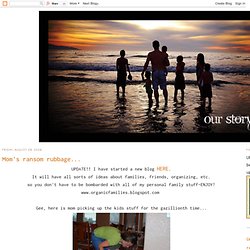 UPDATE!! I have started a new blog HERE . It will have all sorts of ideas about families, friends, organizing, etc. so you don't have to be bombarded with all of my personal family stuff-ENJOY!