Parenting
Commonly Used Acronyms on Facebook, Twitter and in Text Messages - Net Nanny Glossary | Net Nanny. Available for: The following list highlights some of the most commonly used acronyms on chat sites, instant messengers, online forums, Facebook, Twitter and in text messaging.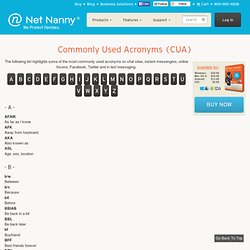 As far as I know Away from keyboard Also known as Age, sex, location. BabyCenter. » Get Help: Contact Us | About BabyCenter, L.L.C. | Community Guidelines| Community Help» BabyCenter Shortcuts: Ovulation Calculator | Baby Names | Baby Showers | Pregnancy Week by Week | Development Calendar | Kids' Activities | Birth Announcements» BabyCenter Mobile: Pregnancy App for Android | Pregnancy App for iPhone » Membership & Newsletters: Update Account | Newsletters | Manage Community Email Subscriptions» Shop Diapers.com: Baby Items | Chicco Strollers | Britax» BabyCenter U.S.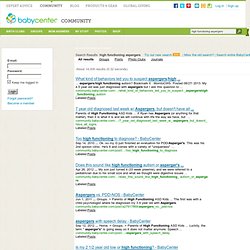 Sites: BabyCenter | BabyCenter Community | BabyCenter en Español | Baby.com | Pregnancy.com | ParentCenter.com | BabyCenter Blog» BabyCenter International Sites: Arabia | Australia | Brazil | Canada | China | France | Germany | India | Korea | Latin America | Malaysia | Russia | UK advertisement. 10 Things Every Father Should Tell His Son | Word Sharpeners. Every boy or man should hear these things from his father by the time he becomes an adult.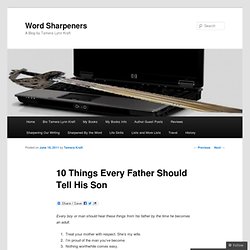 Treat your mother with respect. She's my wife.I'm proud of the man you've become.Nothing worthwhile comes easy.Be a man. Do the hard thing because it's right.Be a man of your word.Treat every woman as if she's a lady.Be a gentleman. It will never be politically incorrect no matter what they say.I love you enough to find out where you're going, who you'll be with, and when you'll get home.Choose a woman based on her mind, personality, and values, not her looks.I'll always love you no matter what you do. Like this: 50 things you should tell your children | Life and Theology. Image credit: CreationSwap user Justin Knight Yesterday, I compiled a list of 50 things you should never tell your child.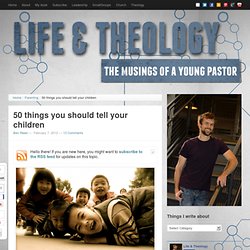 Ever. But that's only half of the story. Autism research centre. (773 unread) - vlsutton - Yahoo! Mail. Discipline for Teenagers - Discipline for Children. Discipline for Teens and Preteens. Emails from a few of the parents who have joined Online Parent Support: "I just wanted to say a BIG Thank You for your work!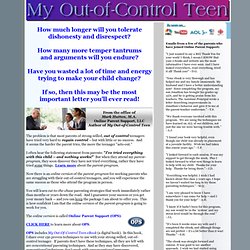 I think, I mean I KNOW that your e-books and website are the most informative I have ever seen. Last Child in the Woods: Saving Our Children From Nature-Deficit Disorder eBook: Richard Louv. Healthy Fit Families, Fitness Blog - Raising Real Men » Blog Archive » When the Red Light District is in Your Living Room. When we were young, a boy had to led astray by an unruly friend or find an ungodly uncle's stash to be tempted by pornography.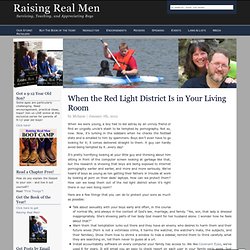 Not so, now. Now, it's lurking in the sidebars when he checks the football stats and is emailed to him by spammers. Boys don't even have to go looking for it; it comes delivered straight to them. A guy can hardly avoid being tempted by it…every day! Mom's ransom rubbage... UPDATE!!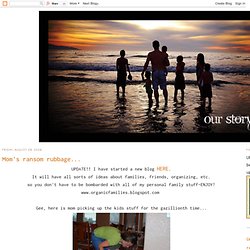 I have started a new blog HERE. It will have all sorts of ideas about families, friends, organizing, etc. so you don't have to be bombarded with all of my personal family stuff-ENJOY!
---