PUB
Relancer la Cité des Enfants | Agence Publicité Avis de Tempête Comment renforcer l'attractivité de la Cité des Enfants, au sein de la Cité des Sciences et de l'Industrie, pour développer sa fréquentation et la positionner en tant que référence ? En adéquation avec la mission culturelle et pédagogique portée par la Cité des Enfants, l'idée créative a consisté à mettre en scène le lien naturel entre la dimension éducative – faire des expériences – et le bénéfice ludique de la Cité. La campagne est portée par un dispositif d'affichage sur site, dans le métro et dans les gares franciliennes.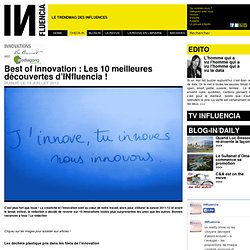 Innovations - Best of innovation : Les 10 meilleures découvertes d'INfluencia !
Publié le 19 juillet 2012 C'est plus fort que nous ! La créativité et l'innovation sont au cœur de notre travail, alors pour clôturer la saison 2011/12 et avant le break estival, la rédaction a décidé de revenir sur 10 innovations toutes plus surprenantes les unes que les autres.
Voici le palmarès COMPLET du 59ème Cannes Lions Festival ! 1.027 lions remis : 17 Grand Prix / 191 Lions d'Or / 299 Lions d'Argent / 511 Lions de Bronze. 398 agences récompensées provenant de 52 pays (sur 87 participants) Voir aussi : Les chiffres clés des Cannes Lions 2012 ! DESIGN, EFFICACITE CREATIVE, MOBILE, RADIO, TITANIUM ET INTEGRE : Pas de prix français.
Le palmarès complet des Cannes Lions 2012 ! #CannesLions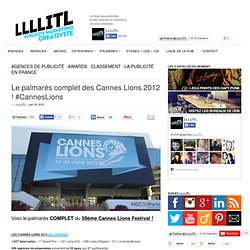 i - BARTON F. GRAF 9000 LLC
Agence Digitale DotYou
Today, we are going to explore 40 unique ideas of creative advertisements that will make you look twice . Some great techniques and ideas were used in all of these ads and I think they are brilliant! Most images link back to the original authors however there are some that are unknown. Don't Forget to… subscribe to our RSS-Feed for future updates. Lua de Papel: Fat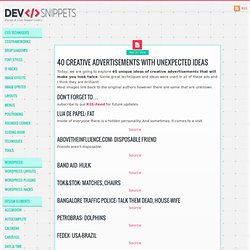 40 Creative Advertisements With Unexpected Ideas
HIT
Idea Cemetary is the latest project for Getty Images in Germany. Translation of the letter: Dear Mr.
April 2007